A New Christmas Tradition: Preparing a Non-Traditional Meal on Your Memphis Grill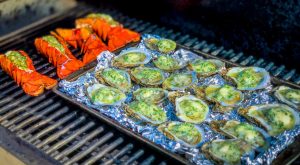 Christmas is often a time of tradition, where you chop your own tree, go out searching for the neighborhood's best light display and bake that perfect ham for your table. Yet, maybe you're on the hunt for a new Christmas tradition. If so, why not try a non-traditional holiday meal this year?
Using Your Memphis Grill to Create the Perfect Non-Traditional Meal
Your Memphis Wood Fire Grill allows you to smoke, sear, bake and roast. It's the only tool you need to cook anything you can think of!
The Main Dish
For your main dish, think outside the box! There are plenty of options. Does your family enjoy seafood? Some maple glazed salmon, grilled lobster tails or oysters, or fennel and pepper stuffed trout might just do the trick. Or, maybe you enjoy BBQ all year-round. If that's the case, whip up some Kansas City style ribs or herb-crusted smoked chops.
Even if you want to stick to your traditional ham or roast, you can spice it up a bit by cooking a Memphis pot roast or twice-smoked ham. Whatever main dish you decide to prepare, make sure you give yourself ample time to do so.
The Sides
You'll want to choose sides that complement your main dish. For example, if you're planning on cooking some seafood, try some simple roasted heirloom carrots or grilled sweet potatoes with herb vinaigrette. If you're feeling like BBQ might be the best way to go, whip up some old-fashioned baked beans. Don't forget the coleslaw!
The Dessert
Thanks to the baking capabilities of your Memphis Grill, you can play around with many unique recipes to fit your Christmas dinner plans. Some of our non-traditional favorites include:
Perfect Your Christmas Dinner With Memphis Grills
With your Memphis Grill at the center of your Christmas, you'll find it's easy to cook anything from creamy lasagna to steamy lobster and everything in between. Plus, you can use your Memphis Grill year-round to perfect any meal. To learn more about Memphis Grills and how to get yours just in time for the holiday festivities, find a local dealer or give us a call at 888-883-2260.