Memphis Wood Fire Grills introduces its game-changing, patented IntelliBurn Technology®:
The most efficient and clean burn available in wood fire grilling today!
Memphis redefines wood fire grilling once again with our NEW! line of IntelliBurn pellet grills!
More heat, less fuel. IntelliBurn increases grill performance and efficiency with a secondary combustion system that creates more heat while using less fuel. This means you will use fewer pellets per cook and produce a cleaner burn when cooking (at any temperature above smoke mode). Beyond efficiency, our new generation (ITC3) grills feature a new combustion blower system that allows for variable speed and improved static pressure for improved temperature consistency and control.
How does the IntelliBurn Technology work?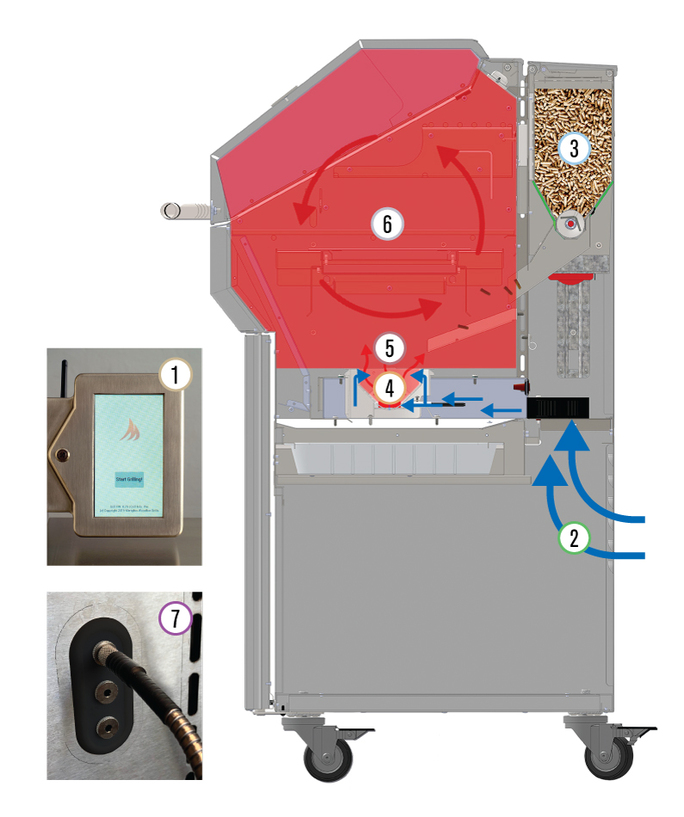 1. The ITC3 touch control allows the user to set their desired cooking temperature from 180° F to 700° F.
2. Intake air is provided by a combustion blower. Our Clean Start system provides air velocity which cleans the burn pot for efficient ignition.
3. Wood pellet fuel in the hopper is then dispensed into the cooking chamber and is in direct contact with the ignitor.
4. Wood pellet fuel combusts and heats the cooking chamber.
5. As the fuel burns, gas emanating from the initial burn is ignited with the introduction of an air source at the top of the burn pot for the ultimate in fuel efficiency.
6. Hot air and smoke circulate throughout the cooking chamber.
7. A removable meat probe interfaces directly with the ITC allowing the user to monitor the temperature of the food.
Secondary combustion burns material (remaining fuel) emanating from the initial burn, providing a clean burn, extended cook time and pellet cost savings
Ash blowout at startup and timed intervals ensures optimal performance and reduction of home maintenance time cleaning the burn pot
Combustion blower allows for variable speed and improved static pressure, which means improved temperature consistency and control
DC motor provides higher starting torque to prevent auger jams; quicker starting and stopping times; variable auger speed provides more accurate pellet delivery and more precise temperature control
User-friendly, full touch 7" screen control for improved visibility and ergonomics
Three meat probes allow for individual internal/food temperature monitoring; get alerts for each one!
Pre-programmed grill cleaning routine means less maintenance for you!
Sliding top shelves with soft close offer extended workspace and storage
Bluetooth Wi-Fi app for quicker setup
Interior lights provide better visibility for evening barbecues
What do all of these features provide for the backyard chef?
First and foremost, a Memphis Wood Fire Grill creates an amazing meal for your family and friends.
With great food and great company, a Memphis pellet grill is the perfect addition to your backyard as it offers the convenience and versatility of your indoor kitchen while serving as the focal point for entertaining, celebrations and family get-togethers.