Outdoor Kitchens
It's time to elevate your outdoor kitchen. Create the perfect outdoor cooking space with Memphis built-in grills, islands, and accessories.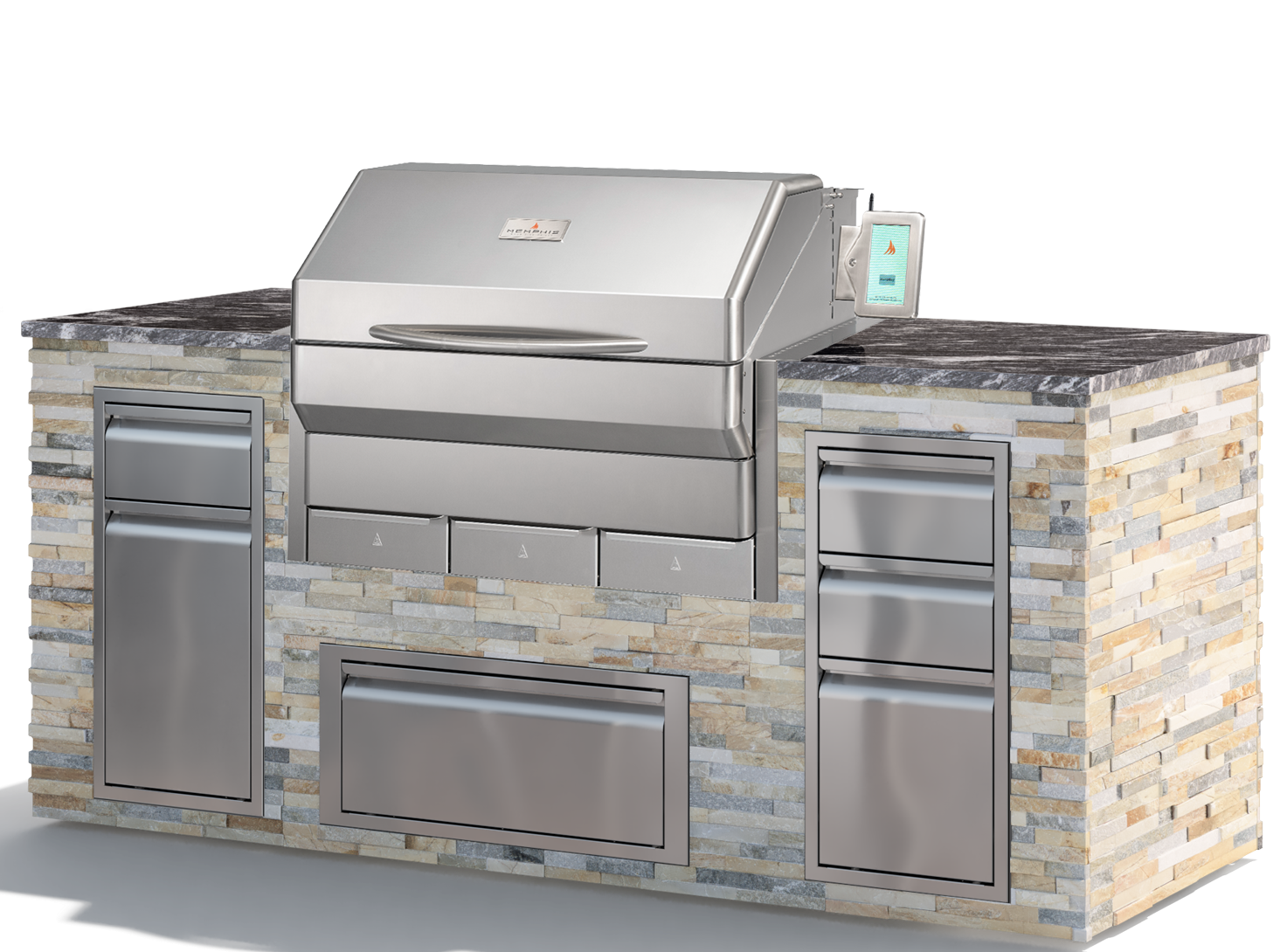 Outdoor Kitchen Grilling Essentials
Outdoor Kitchen Resources
Outdoor kitchens are a fantastic way to entertain friends and family and create lasting memories. Before you make your dreams reality though, it's important to do your research. Learn about designing your outdoor space, must-have features to consider, and more.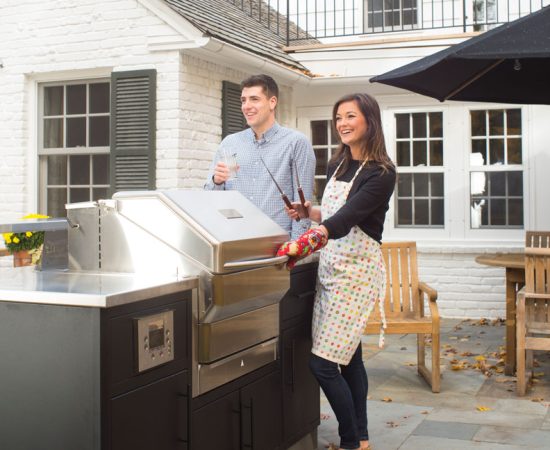 When it comes to backyard kitchen design, the options are endless! Get inspired by these design ideas and start planning your own dream kitchen.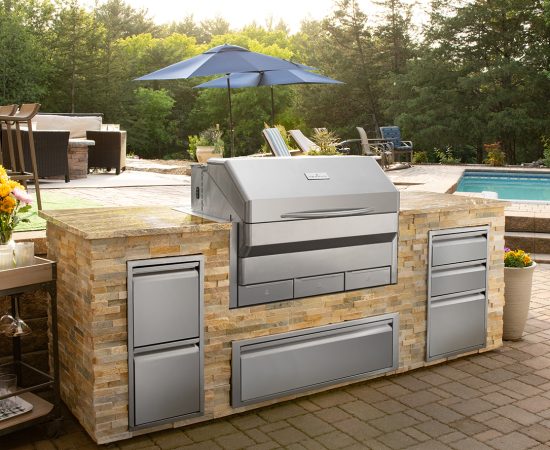 Not sure what features to include in your outdoor kitchen? Check out this list of must-haves to get started.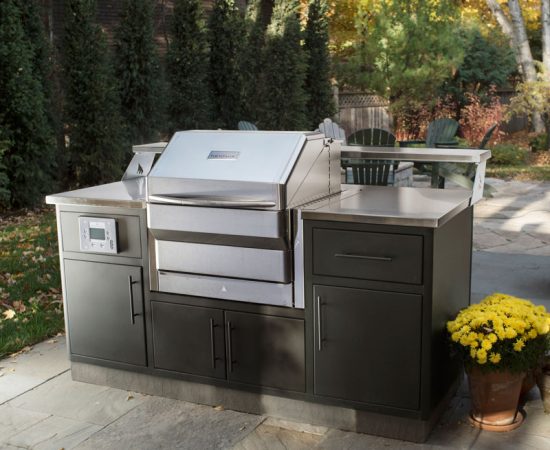 If you love to cook (or entertain), an outdoor kitchen grill is a worthy investment. Learn about the benefits of grilling outdoors.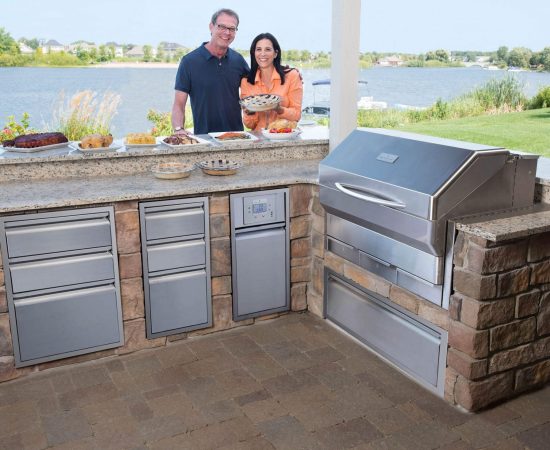 Planning a backyard kitchen can seem daunting, but with a little planning, it can be a fun and rewarding process. Check out these tips to get started.
Elevate Your Outdoor Kitchen
Choosing an Outdoor Kitchen Grill
When it comes to grilling, there are many factors to consider. But if you're looking for a versatile, durable, and easy-to-use grill, a pellet grill is a great option. Pellet grills can be used for grilling, smoking, baking, searing, and more, making them a versatile addition to any backyard kitchen.
Memphis Wood Fire Pellet Grills are constructed from durable stainless steel and utilize patented Intelliburn Technology to create the most efficient and clean burn available today.
Factors to consider when choosing a grill:
What will you be cooking on your grill? 

What does your outdoor space look like? Consider your patio, yard size, and other factors. Where do you want to place your grill based on your current setup?

What features are important to you? 
Memphis Grills Stone Island Kitchens are the perfect outdoor kitchen island and an invaluable complement to your grill. These outdoor islands include space for cabinet doors and drawers to store all your grilling supplies. They're also designed to perfectly fit each Memphis Grills pellet grill, giving you a custom, stylish, and efficient outdoor cooking station.
Key Features of our Stone Island Kitchens:
Available in three sizes: 9 foot, 7 foot, and 5 foot
Available in three stone finishes: Sierra Sandstone, Terracotta Sandstone, and Pewter Honed
Available in three granite tops: Tiramisu, Jet Mist, and Valle Navado
Prefabricated Outdoor Kitchens
A prefabricated outdoor kitchen island is a great way to get all the benefits of an outdoor kitchen without the hassle of custom construction. Memphis Grills built-in pellet grills integrate seamlessly with a variety of prefab outdoor kitchens and are ideal for any outdoor cooking setup. These ready to assemble outdoor kitchens don't sacrifice quality for convenience though. Prefabricated outdoor kitchens allow you to choose a custom look without paying the custom price.
Prefab outdoor kitchen islands offer many benefits, including:
Versatile design options without the need for custom design and construction

Ready to assemble design makes set up simple

High-quality look
Durable design
No two outdoor kitchens are the same. Here are just a few of the ways to use Memphis pellet grills and islands to create the perfect outdoor kitchen for your needs.
Don't miss out
Let's be friends. Subscribe to our newsletter to receive updates on new launches, recipes, and more.
Can I use my freestanding pellet grill in my outdoor kitchen?
Yes, if you want to easily transition your Memphis freestanding grill into an outdoor kitchen island, today or in the future, it is easy to do with a Memphis Slide-in Kit.  Simply remove the side shelves and attach the Slide-in Kit and place the grill with lower cabinet in your new outdoor island. Available with Elite, Pro and earlier freestanding models.
Does an outdoor kitchen need to be covered?
The grill should be covered when not in use and it is best to use one of our Memphis grill covers designed to fit your model exactly. Our new covers come with Velcro to keep them from blowing off and the built-ins covers have hooks and weights to help keep the cover in place when it's windy. Stone and granite islands typically do not have to be covered. For island storage units, if you have high grade stainless steel, such as 304 (which we have in the Memphis brand), your doors and drawers for storage do not have to be covered. 
How much space do I need for an outdoor kitchen?
The size of your outdoor kitchen will be determined by the amount of space you have available, how you plan to use it and your budget. A small island can be 4 or 5 feet wide, or if you have ample area, you can go for a 9' island or longer. Review your budget, outdoor area and speak with your landscaper or grill dealer about your ideas. They will be able to help you in designing your space.
What kind of storage do I need in my outdoor kitchen?
There are a variety of storage choices for outdoor kitchens, so it's easy to personalize it to your preferences. You will want doors and drawers to hold grilling accessories and tools, sauces, pellets, and other items you will want for convenience in your cooking process. Make sure to select high quality products for your island, such as 304 stainless steel doors and drawers, with soft closures and slides that will handle at least 100 pounds in weight for durability. You may also want to look at a cooler or refrigerator, but that depends on your space and budget limitations.
How much does an outdoor kitchen cost?
The cost of an outdoor kitchen can vary widely depending on the size and features you choose. If you are starting with a small cart, you can begin your Memphis kitchen for about $2,000. If you are looking for more of a built-in kitchen with storage, the smallest Memphis Stone Kitchen with grill and one lower drawer and side drawer set is about $12,000. The largest stone island with grill and storage would be approximately $21,000. You can spend even more if you want something custom built. Think through your usage, budget, and the return on investment.
How do I design my outdoor kitchen?
When designing your dream outdoor kitchen, the sky's the limit! However, there are a few things you'll want to keep in mind. First, consider how you will use your outdoor kitchen and what appliances you will need. Then, choose a layout that works for your space and flow.  
Visit a grill or outdoor kitchen designer to start getting some ideas. Memphis dealers can help you with what you will need to build your dream outdoor kitchen. You will want to think about how you plan to use your outdoor kitchen. Here are just a few questions you should ask:
How often will you be entertaining? 

For how many people? 

Do you want more of a casual, down-home feel or something a little more sophisticated? 

How much storage for utensils, wood pellets, sauces or spices will you need? 

Do you want a beverage refrigerator or cooler? If so, how large?  

Do you want a sink with running water for preparations and clean up? 
The hardest part will be prioritizing your wants with your budget. You can always start with the grill and grill island and build on with other features when time and money permits. Also, remember that cooking meals and feeding your guests is your first priority for the outdoor kitchen. Don't skimp on the equipment, most importantly the grill. We believe wood fire grilling is hands-down the best, and Memphis is the best pellet grill on the market (we may be biased, but we are true believers!). Lastly, don't forget the details. Adding personal touches like decorations, lighting, and comfortable furniture will make your outdoor kitchen a space you'll love to spend time in. Check out our blog post for further outdoor kitchen ideas and inspiration!
Happy Grilling!