Our Innovative Grilling & Smoking App
Grill Your Next Meal Using Our Innovative Pellet Grill App
Our new Bluetooth-enabled setup makes connection to our pellet grill app easier than ever before. Simply start up your Memphis Wood Fire Grill, add your food, kick back and relax while your food cooks.
Monitor Your Pellet Grill From Anywhere!
From your smartphone or tablet, you can check grill and food temperatures and more: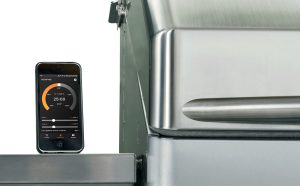 Track Internal Temperature: Monitoring the internal temperature of meats is key to avoiding undercooked or overcooked foods. Our grill app allows you to track the internal temperature of your meats in real-time using up to three meat probes.
Follow Recipes: The smoking and grilling app has step-by-step recipes that make it easy to become a Grill Master. Simply select your recipe and begin crafting a mouthwatering meal, all with the guided help of your smart device.
The Memphis Grills App is available in the Apple App store and the Google Play Store.
Wi-Fi Based Technology Connects to Your Home
Using cloud-based technology, our grill app connects to your home Wi-Fi network, rather than local connectivity. This infinitely extends the range of the app, allowing you to access real-time temperature data from wherever you like.
Heading to the golf course or hopping on the boat? Fire up your grill and track progress from the green or even from the middle of the lake! Relaxing on the couch? Forget running back and forth to your grill—just grab your smartphone and keep track of the progress of your meal as you relax.
Download our grilling and smoking app to ensure a perfect meal on your Memphis wood fire grill today or contact us with any questions.