Wi-Fi Setup - Step-By-Step Instructions
ITC 3.0 Grills
The Memphis Grills Wi-Fi system is only compatible with the following network security protocols: WPA/WPA2 Personal, TLS & SSL.
Currently, our Wi-Fi may or may not be compatible with networks that use the following IEEE LAN Protocols: Wi-Fi 5 (802.11ac), Wi-Fi 6 (802.11ax). This list is not all-inclusive.
Connecting the Grill to Your Wi-Fi
On your grill, register your account in the Memphis 3 App before proceeding.
Navigate to the Settings Screen (far right icon) on the Memphis Grill.
Press "WiFi" to navigate to the Connection Screen.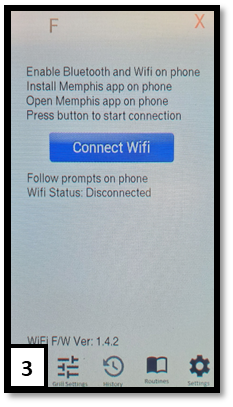 4. Press "Connect WiFi" to start Wi-Fi setup. The screen will display "Visible on Bluetooth" to show it has started.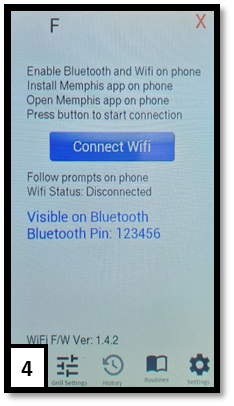 5. Using your phone or tablet, log into the Memphis 3 App using our account email and password. 
6. If this is your first time setting up a grill on the app, a window will pop up asking to "Provision Grill" or "Add Existing." Press "Provision Grill". If this isn't the first grill being added to your account, select the settings gear in the top right corner and press "Add Grill" to get the popup.
7. Select your home Wi-Fi network from the scan list shown, enter the Wi-Fi password, and press "Provision". Note: The Wi-Fi network must be a 2.4 GHz network to appear on the list.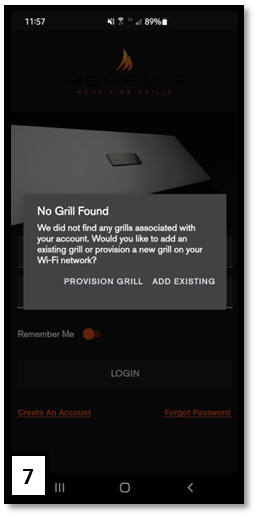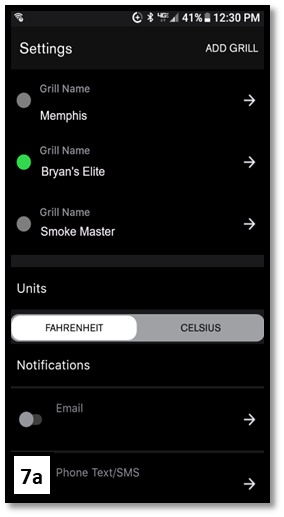 8. Enter the Bluetooth Pin to complete provisioning.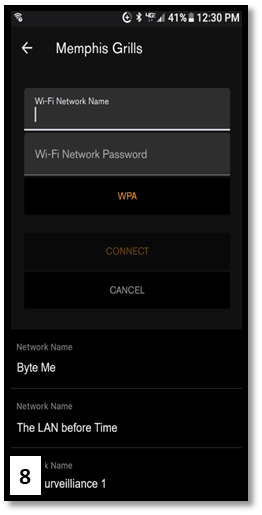 9. Once the connection is complete, the Memphis Grill will display "Connection Successful" and update in WiFi screen information. The WiFi connection bars will also be displayed in the top right corner.
After the Wi-Fi is connected, a popup window will appear in the Memphis 3 App asking for the MAC address and Grill Name. (This information can be found on the WiFi screen of the Memphis Grill. Press the Settings Menu (bottom right icon)>WiFi>WiFi screen.) Enter this information in the popup and select "Done".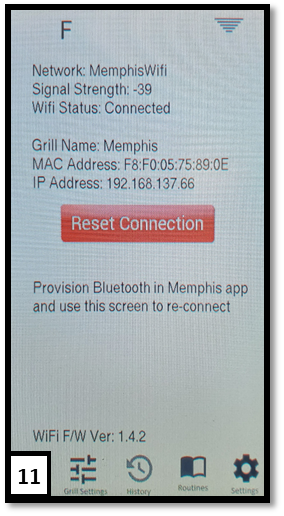 *Contact Memphis Technical Support if unable to connect.
For iPhone Users Only 
Memphis Grills has been in the design process for the ITC 3 grills and the Memphis 3 App for more than a year. During this process, Apple iOS connection authentication changes occurred. As such, for the initial run of grills manufactured, and for iPhone users only, the following process will need to be implemented for the initial App setup only, in order to use the Memphis 3 iOS App. Serial numbers of the affected grills are listed below. This is not required for Android App users.
Affected Models:
VG0001S: Serial numbers 30001-30267
VGB0001S: Serial numbers 30001-30297
VG0002S: Serial numbers 30001-30186
VGB0002S: Serial numbers 30001- 30216
The serial number can be verified on the label underneath the hopper lid.
User Device: Apple devices running iOS 13 or above.