Cooking Your Favorite, Old-Fashioned Family Christmas Meal with Memphis Grills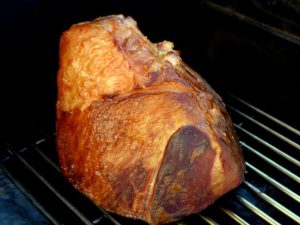 Christmas is almost here! In the midst of the hustle and bustle of the season, you might be longing for that old-fashioned family Christmas you used to have when times were simpler. The good news is, you can bring it all back by cooking that perfectly traditional Christmas meal on your Memphis Wood Fire Grill.
First Things First: Smoke the Perfect Christmas Ham with Your Memphis Grill
Nothing says Christmas dinner like a crispy but tender and sweet smoked ham. Whether you follow this recipe to a T or decide to add your own flavorful spices, it's sure to please your entire crowd.
Prepping Your Christmas Ham
The prep work matters when you want a flavorful result. First, thaw your ham. Expect to thaw 4-5 hours for each pound of ham.
Once your ham is thoroughly thawed, season it with your favorite mix of spices. Next, cut the skin of the ham using a diamond pattern which will allow the spices to leak down into the meat. You'll then cover your ham with plastic wrap and allow it to chill for at least three to four hours.
Seconds Please: Preparing Your Family's Favorite Side Dishes
No ham is complete without those favorite side dishes. You can start with a hearty green bean casserole—a classic nap-inducing staple. Plus, candied yams are simple to prepare and not just for Thanksgiving!
Whether smoked or baked, mac and cheese is also a family favorite for guests of all ages. Finally, add some delicious bread to the table in the form of old-fashioned buttermilk cornbread or something new like brown bread with molasses.
Now It's Time for Something Sweet
Your Memphis grill isn't just great for ham and all the fixings. Try baking some holiday staples such as pumpkin pie or pecan pie for a unique, smoky flavor. Or, whip up some of grandma's homemade chocolate chip cookies.
Here's to a Delicious & Merry Christmas From Memphis Grills
Although these recipes give you a great place to start, the sky's the limit for what you can create on your Memphis Grill. We hope you have a merry Christmas and a happy holiday season with those who matter the most. To learn more about Memphis Grills, find a local dealer or give us a call at 888-883-2260.