Autumn has arrived – crisp cool days have replaced the warmer weather of summer signaling the beginning of a new season. In some parts of the country, the first few flakes of snow are christening the landscape.
If ever there was a time for thanks, this would be it. The time of year is so important in America that Abraham Lincoln in 1863 proclaimed the last Thursday of November as a day of thanksgiving and praise.
For those of you who take their grill seriously, the Memphis Wood Fire Pellet Grill will make cooking Thanksgiving dinner a breeze. There are many ways to incorporate the Memphis into your dinner making plans (especially when oven space is at a premium).
The Star of the Meal: Roast Turkey
There is no better place to roast your turkey than in the Memphis. One of the many amazing features of the Memphis is its ability to roast foods using convection heat. You'll get beautifully crispy skin and a hint of that rustic wood fire flavor. Plus, allowing the Memphis to cook the turkey will free up all kinds of space in the kitchen oven for other Thanksgiving offerings.
Memphis Grill Thanksgiving Turkey : This delicious turkey has mouth-watering meat, golden-brown skin and hints of rosemary, sage and thyme. The magical ingredient is the Memphis Wood Fire Grill and its exceptionally precise temperatures. Set it and forget it – it does all the work for you while you visit with friends and family.
Savory Citrus Roasted Turkey: The citrus flavors that make this Memphis roasted turkey special also work to make left-over Thanksgiving turkey sandwiches memorable as well!
To Brine or Not to Brine: A Thanksgiving Turkey Taste Test. Brining is gaining in popularity, but does it make a difference? Check out our blog post for our results and recipes.
Perfect Roast Turkey Gravy:  Forget about store-bought gravy. Once you have a taste of our Memphis Roast Turkey Gravy you won't ever go back.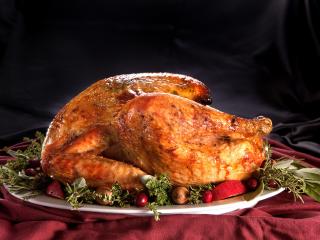 Thawing: Plan Ahead
When it comes to thawing a frozen bird, use the refrigerator. There are other ways of thawing poultry, but this is the easiest and most reliable method available. When planning ahead keep the math in mind. For every 4 to 5 lbs of turkey allow 24 hours of thawing time in a refrigerator set at 40 degrees F or lower. So for a bigger bird weighing in at 20 lbs the thawing process for turkey should begin at least five days before cooking.
Bonus Recipe
Sweet Potatoes: The Ultimate Thanksgiving Side-Dish
Most families have a favorite sweet potato side-dish recipe to serve alongside the turkey and we are no exception.  In fact we have two. This one's a tried and true family pleaser with a crunchy pecan topping that's hard to beat: Sweet Potato Puff.
If oven space is hard to come by on Thanksgiving Day you may want to make up the following roasted sweet potato recipe the day before:
Sweet Potatoes: Maple-glazed & Roasted
These tasty roasted maple-glazed sweet potatoes keep well overnight in the fridge and require only a quick re-heat. You can easily pop the pan back into the Memphis for 15 minutes while the roasted turkey is resting and they will be ready for the table when it's time to carve the bird.
Ingredients
3 lbs. sweet potatoes
1/3 C maple syrup
3 T melted butter
½ tsp salt
Grinding of peppercorns
Preparation
Preheat Memphis Wood Pellet Grill to 400 °F.
Peel sweet potatoes and cut into chunks. You will have about 8 cups of Potato when done. Place sweet potato chunks in a large bowl.
Combine maple syrup, butter, salt and pepper. Pour this mixture over the sweet potato chunks and toss them around until evenly coated.
Place the coated sweet potato in a shallow roasting pan lined with parchment paper cut to fit. Cover the pan with foil, place on the middle of the bottom rack in the Memphis and bake for 20 minutes.
Remove the foil covering and continue to roast the sweet potatoes, stirring occasionally until the chunks are browned on the outside and soft inside. This will take about 40 minutes.
Happy turkey day! And feel free to browse our entire recipe section where we have hundreds of desserts, side dishes, and main courses sure to satiate any appetite.