For this year's upcoming Thanksgiving turkey, the team here at Memphis Wood Fire Grills did a side-by-side taste test with two identical birds, each prepared a bit differently. With the first, we prepared it simply using one of our favorite rubs (recipe below). With the second, we took a popular turkey brine recipe from the Food Network and brined it overnight and then added the identical rub prior to cooking. And of course, we cooked our turkeys on one of our amazing wood fire pellet grills (we're a bit biased when it comes to cooking methods), but the brine and rub recipes should be applicable regardless of your cooking style or appliance.
The results were both expected and surprising. You can check out our informal findings at the end of this post.
The Brine
Ingredients
2 gal. Cold Water
3 C Apple Cider
2 C Packed Brown Sugar
3/4 C Kosher Salt
3 tbsp Tricolor Peppercorns
5 Whole Bay Leaves
5 Minced Garlic Cloves
Peel of 3 Large Oranges (cut into strips)
4 Fresh Rosemary Sprigs (leaves stripped off)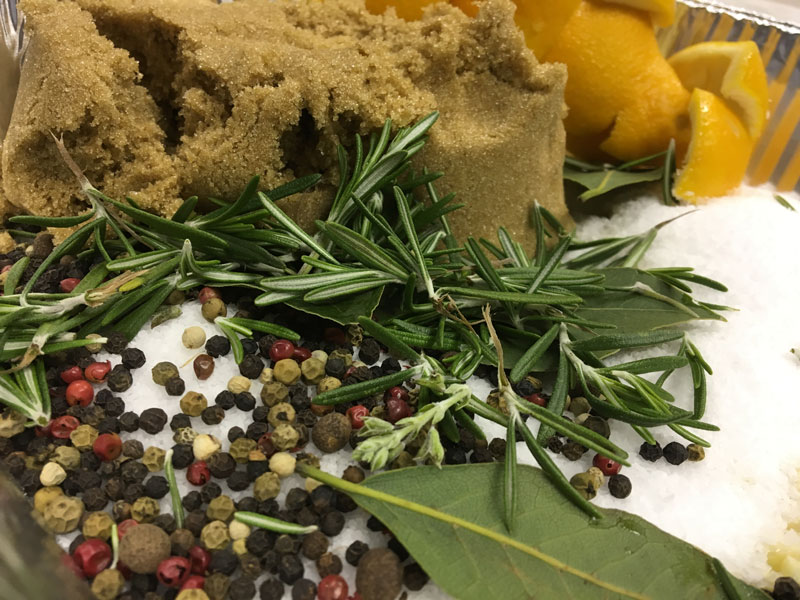 Brined Turkey Preparation
(From The Food Network)
Combine all of your ingredients in a large pot.
Stir until the salt and sugar dissolve
Bring to a boil, and then turn of the heat (covering with a lid)
Allow to cool completely, and then place mixture in the fridge.
Place your uncooked , fresh turkey in the chilled brine solution, and then refrigerate for 16 to 24 hours.
The Rub
If you take a look across our website you'll see how proud we are of the Memphis's ability to cook poultry like an all-star. No matter what kind of bird, the mixture of convection roasting and wood fire flavor always seems to yield delicious, mouth watering dishes (crispy skin + moist, tender meat = whoa!). Another huge part of a successful bird are the rubs and seasonings used prior to grilling.Rub Ingredients
2 tsp Kosher salt
1 tsp fresh ground black pepper
2 tsp dried thyme
2 tsp dried rosemary
1 tsp dried sage
1/2 tsp garlic powder
Cooking Your Turkey
With our wood pellet grill, cooking the turkey is definitely the easiest part of this whole process. If using an oven, cook until the internal temp of the thigh is 165-170 F.
Preheat your grill to 350F
Cover both turkeys in the rub mentioned above
Place your turkeys on the grill and cook until the internal thigh temperature reaches 165-170 F
Once they have reached temperature, take them off the grill and let them rest for around 20 minutes before carving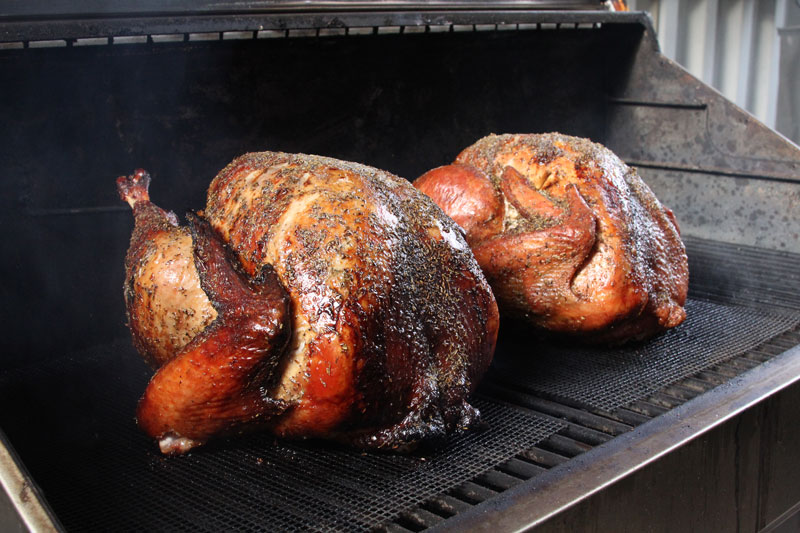 The Results
Drum Roll Please…
Both turkeys turned out great! The outside was crispy and you could taste the subtle wood fire flavor in every bite. Of the two turkeys we ended up liking the brined version a bit more. The bird was juicier and the citrus flavors added a fun flavor profile. The un-brined (or is it non-brined?) version of the turkey was delicious in its own right, but if you do have a little more time for turkey prep this year, we definitely recommend giving brining a shot!