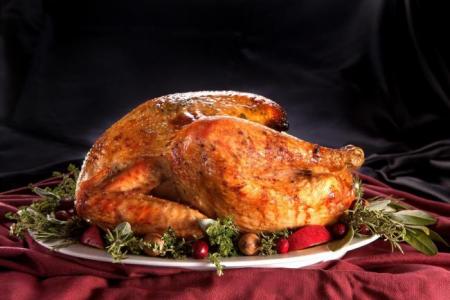 No holiday brings to life the image of a table laid out from end to end with delicious food like Thanksgiving. This year make your holiday especially memorable by cooking your entire meal and desserts on a Memphis Wood Fire Grill—the family will rave about it for years to come!
Memphis Makes It Easy to Do Thanksgiving
Yes, you can do Thanksgiving on the grill! From succulent smoked turkey to crowd pleasing pies, Memphis makes it easy.
Spare yourself the cluttered kitchen and crowded house. Take your dinner preparations outside. And if you're busy watching the game or arguing politics with that cousin from out-of-town, track your meal's progress on our mobile app. The controls are always at your fingertips.
Let's Warm Things Up
Thanksgiving is an all-day affair. Pace yourself with a couple of crowd-pleasing starters to build expectations. 
Smoked Baba Ganoush is a tangy eggplant dip that provides a rich savory alternative to traditional dips and spreads. Serve it with chips, pita or veggies.
Throw in some Grilled Halloumi Cheese for a surprising flavor. This salty un-brined sheep's milk cheese can be served with a salad or on its own.
The Main Event
Before you plan your turkey's preparation, check out our post on To Brine or Not to Brine Your Turkey. If you go the extra mile with the brine, you'll need to submerge your turkey 16-24 hours in advance. 
Prepping Your Turkey
This Thanksgiving guide wouldn't be complete without a quick how-to on prepping your turkey. After all, it's the main part of your meal.
Thaw your turkey:

First things first, remember your turkey will take about 24 hours for every five pounds to thaw in your fridge. Make sure you start thawing with plenty of time.
Wash your hands:

Before you handle your raw turkey, wash your hands. It's also a good idea to clean your countertop and other surfaces before you begin.
Clean the turkey:

You'll need to remove the turkey from its packaging. You'll also need to pull out the neck as well as the giblets from inside the turkey.
Season the turkey:

Now, season your turkey to your liking. Once complete, you're ready to cook.
If you want to try something extra special this year, check out our Whiskey Smoked Turkey video recipe!  Steven Raichlen put a lot of thought into how to deliver the perfect Thanksgiving bird. From butter injection to final carving, he shares his secrets.
Those Mouth-Watering Sides
It wouldn't be Thanksgiving without a full buffet of side dishes to go with your turkey. You've got to have mashed potatoes and we have a variation that is out of this world. Try our Cheesy Smashed Potatoes with Bacon and watch your guests' faces light up with joy.
My family always mixes in the sweet with the savory. Check out Candied Yams for a perfect holiday side with a dose of sweet goodness. Even the kids will want seconds.
Round out a colorful plate with Green Bean Casserole. In the Midwest, this is a staple across households. The classic taste goes perfectly with your turkey.
Loosen the Belt for Dessert
No celebration is complete without dessert. And it's not Thanksgiving if it isn't Pumpkin Pie. Try baking your pie in your Memphis Wood Fire Grill for a subtle, smoky finish. Luckily there's room enough for several pies!
Giving Thanks
We at Memphis Grills are thankful for all our loyal customers who have discovered the amazing versatility of our grills. We wish you the happiest of celebrations and thank you for your support. Find a dealer near you and join our family!