Enjoy True Outdoor Cooking With Our Full Line of Built-In Wood Fire Grills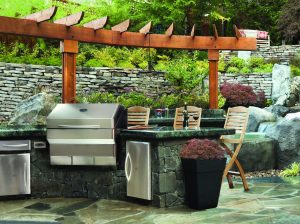 They say the kitchen is the center of any home. Make your grilling area the center of your yard by creating a truly complete outdoor kitchen. Memphis Grills offers a wide range of outdoor kitchen products designed to take your grilling experience to the next level.
Choose From Our Top-of-the-Line Range of Built-In Grills
Our available outdoor kitchen grill products include:
Memphis Pro Built-In ITC3: Constructed of double-walled 304 stainless steel, our Memphis Pro built-in grill model is the perfect addition to any outdoor kitchen. The Pro offers flexible direct and indirect cooking modes and an 18-pound dual pellet hopper, dual metal convection fans, and precise temperature control capable of anything from 180° to 650°.
Memphis Elite Built-In ITC3: Measuring at 50 percent larger than the Pro model, our Memphis Elite built-in series offers the ultimate in outdoor kitchen cooking. The Elite built-in BBQ offers 1252 sq. inches of cooking surface, a large 24 lb. pellet hopper, dual metal convection fans, and precise temperature control capable of anything from 180° to 700°.
All of our outdoor kitchen built-in products offer the flavor of wood fire grilling, with the convenience of convection cooking. Control the grilling temperature of any of our grills from anywhere via our innovative Wi-Fi app.
Why Should You Invest in an Outdoor Kitchen?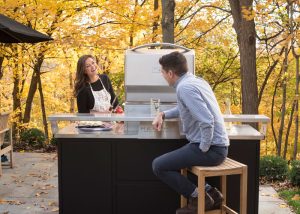 A complete outdoor kitchen setup offers a wide range of benefits, including:
Lifestyle: For many people, outdoor cooking is a lifestyle. Outdoor kitchens support your active grilling and smoking lifestyle by arming you with the equipment and convenience you need to do what you love.
Convenience: Running back and forth to your indoor kitchen becomes frustrating and can impact the quality of your grilling efforts. Our outdoor solutions provide the storage and prep area you need to craft a meal from start to finish, without ever having to make a trip indoors.
Entertainment: Party goers tend to congregate in the kitchen. Outdoor kitchens provide a centralized location for hosting and entertaining guests. Offer food, drinks, and entertainment all from a single location in your yard.
To learn more about the benefits of our outdoor kitchen grills, contact us today.