The sun is shining, the birds are singing, and the aroma from the outdoor grill is making your mouth water as you create new memories with friends and family. Your backyard is the new neighborhood hotspot thanks to your new outdoor kitchen. In fact, many homeowners across the nation are building and enjoying their very own outdoor kitchens. And there's a good reason for it: Outdoor kitchens provide opportunities to mix amazing food with great company, resulting in unforgettable memories and a healthy dose of vitamin D.
Now it's easy to say you want a second kitchen outdoors, but it's a whole other deal to plan the space if you're looking for more than just a simple grill and picnic table. To help you create the perfect place to grill and entertain outdoors, we've put together some tips for designing the outdoor kitchen of your dreams.
Outdoor Kitchen Layout and Location
First thing's first: Where is the kitchen going to go? Do you have outdoor kitchen ideas in mind? Here's a few tips to get you started:
Make sure sight and walking lines are hindered as little as possible.
Keep the distance between your indoor and outdoor kitchens as short as necessary.
For safety reasons, give it space away from any outdoor recreational areas if possible.
Place the grill in a way that uninvited smoke won't travel inside the house.
Don't forget about the cooking triangle!
Selecting the Floor for an Outdoor Kitchen
As you plan your dream culinary space and start coming up with outdoor kitchen ideas be sure to think "safety first." When it comes to what you'll be walking and standing on while cooking, climate plays a big part when when choosing the best option for outdoor flooring. Safety and convenience are two important things to consider when brainstorming for your outdoor kitchen designs. Here are a few tips:
Professionals recommend concrete, brick, and natural stone which offer the most wear and slip resistance.
Materials such as tile and marble get slick and slippery when wet and may not hold up too well against grease or food stains.
This one is obvious, but stay away from combustible or moisture absorbing subfloor materials such as plywood.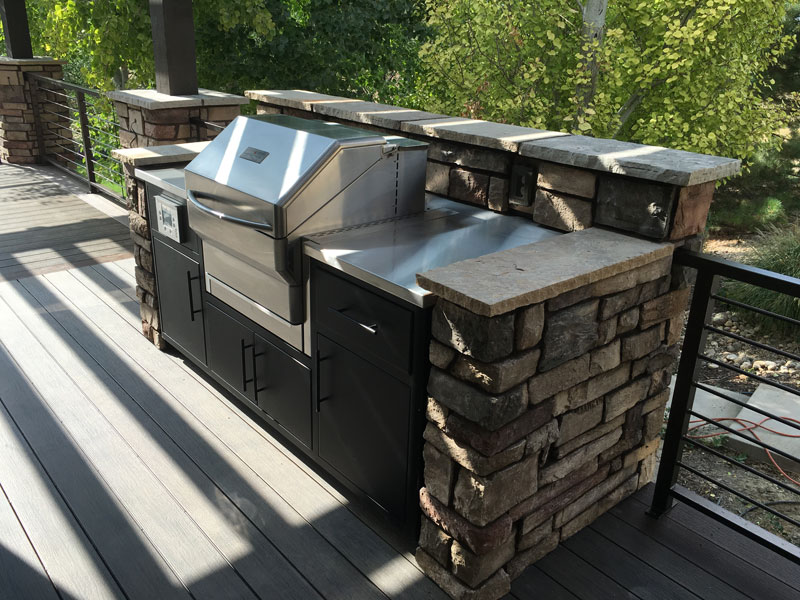 After you consider the safest material to use, look into different outdoor kitchen design ideas and what fits with your budget. Many experts still recommend concrete as the go-to for both its affordability and durability. Concrete also allows for flexibility when it comes to kitchen aesthetics because there are many ways to improve its appearance such as stamping, coloring, or adding a rock-salt finish.
It's also important to consider what type of flooring you've used for other outdoor landscaping so you can choose a kitchen floor that matches or compliments those other spaces.  It can be overwhelming to sift through all the possible designs and ideas yourself, so here are some of the more popular selections:
Contemporary: Slate or cast-concrete tiles that are designed for the outdoors or clean, washed concrete in integral colors.
Tuscan: There are tumbled pavers, unhoned travertine, deep-washed exposed granite, or stone-texture stamped concrete.
English/Traditional: Brick or darker flagstones, washed concrete, or stamped cobblestone concrete.
Tropical: Flagstone or faux (fake) rock, texture-stamped concrete.
Old World: Repurposed brick, exposed aggregate, Windsor Cobblestone texture stamps, fleur-de-lis, and grapevine borders.
Appliances for Outdoors
Another crucial part of the floor plan and versatility of your outdoor kitchen are appliances. Make sure you know what you want, as well as the sizes, because they determine the size and design of the kitchen itself. And, if you're planning on a grill, (and why wouldn't you be?) it's recommended to purchase one that is higher quality, as they last longer and are typically higher-performing (we recommend a Memphis Wood Fire Grill, but we're a bit biased). Here's a standard list of appliances to consider:
Grill and Smoker (some grills can do both).
Refrigerator (only recommended if you use your outdoor kitchen a lot)
Stovetop or side burners (more on that below)
Brick oven (or get a wood fire grill with convection capabilities—hint, hint)
Warming tray—helpful if you often feed large groups
Sink—can be expensive, too, but it's mostly due to the building codes and costs of plumbing. The current trend is adding a hot water heater under the counter to save on the hassle of plumbing hot water from the house.
Outdoor Built-in Grills vs Cart Grills
You can't go wrong either way, but the favoring opinion is built-in grills for outdoor kitchens because they often offer a sleeker more professional look. The downside is if you move, it's much harder to bring your grill with you. Cart grill models have the advantage of mobility but lack the sleek look of their integrated cousins. 
Grill Side Burners
A useful appliance you could add to your outdoor kitchen arsenal especially if your outdoor kitchen is far from your indoor kitchen. It has many benefits such as:
Heating sauces or boiling water while you're grilling.
A separate burner may be more powerful than one that's built into the grill.
A plug-in burner allows for both indoor and outdoor use.
Countertops for Outdoor Kitchens
You're going to need space for prep work, platters, tools, and eating even if you have a separate seating area. Also, it's good to have varying heights for counter space which allows for multiple tasks.
There are three traditional height options:
36" high counters are best for those who wish to stand while doing prep work and cooking.
30" high counters are best for sitting and eating.
42" high counters, also called bar tables, are great for standing as well as ideal placement for ready-to-eat food and beverages.
It's best to have a mix of the various countertops included in your outdoor kitchen design as it allows for maximum functionality and flexibility.
Kitchen Storage
Storage is also a must-have, and it needs to be waterproof and durable to survive the elements. We usually recommend getting more cabinetry/storage than you think you'll need (as long as it works aesthetically, of course).  Memphis Grills offers a wide range of Doors & Drawers all made of 304 stainless steel to match our grills. Each drawer comes with soft closures and slides and can hold up to 100 lbs. BBQ tools and entertaining supplies have an odd way of accumulating in a well-used outdoor kitchen.
Rain and Sun Coverage
Mother nature is on her own time and often won't tell the weatherman what's going to happen next, so it's smart to invest in a roof or cover for your kitchen. There are numerous variations of canopies, umbrellas, and pergolas that might fit the bill. This can be one of the most expensive parts of the project so if you're on a tight budget look for a movable cantilevered umbrella.
Tip: Get one with a removable cover so it can be washed.
Outdoor Building Codes
Many high-end outdoor kitchens require separate electrical, plumbing, or gas lines brought directly to them. It's important to be aware of the local building codes as well, and each city and county has its own regulations. This is where hiring a professional for your project can come in handy as they're required to be up to date on local codes. If you choose to DIY, you will want to speak with your local government as they will face you in the right direction.
Building Your Outdoor Kitchen to Last
Your budget may not allow you to create your dream outdoor kitchen just yet, but it's still a good idea to include everything you want in your layout so you can at least prepare for future additions. This means doing things such as:
Build in phases—plan space for an island, water feature, or fire pit you may want to add.
Run gas or electricity for anything you may want to add later. Choosing to wait until later for gas and electricity means extra cost in ripping up floors and walls.
As you can see, building an outdoor kitchen is no small task. It takes a lot of time and money to get it done properly, but it's all crucial if you want to make those outdoor days full of food and friends possible. There are options and upgrades for every budget possible, so with a little elbow grease or help from a professional, your days of fun and sun are just around the corner.
For more design ideas and inspiration, be sure to check out the photos in our Outdoor Kitchen Gallery.