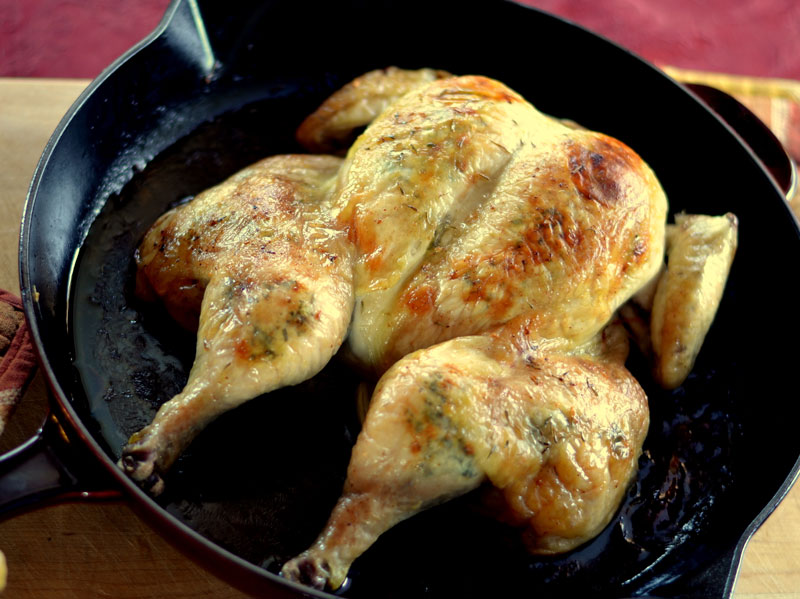 There are four excellent ways to cook using your Memphis Wood Fire Grill: sear, smoke, bake and roast. When you want tender, delicious, and perfectly cooked meats and vegetables, roasting is the way to go.
What Is Roasting?
Do I roast a chicken or bake it? If I have a roast in the oven, what is it doing? Before modern appliances the distinction was easy: roasting was done over a fire, baking was done in an oven. Generally, these days baking is for soft things like bread or cookies and roasting is for firm foods like meat and veggies.
Both methods involve using hot air (300 degrees or warmer) to cook food, usually within a chamber. The addition of a fan creates a convection oven that moves air over the food and cooks 30% faster. 
The Best of Both Worlds
Your Memphis Wood Fire Grill offers the flavor enhancement and cooking power of a wood fire. It also features the modern advantage of a well-designed convection oven. Combine the two and you have a versatile appliance unlike any other. Not only is it state-of-the-art, it's easy to use for a great tasting meal every time.
The temperature controls on a Memphis grill are like that of any oven. Once you've loaded the hopper with the wood pellets of your choice and set the controls, your Memphis Grill will do the rest. It automatically loads more pellets as needed to maintain a constant temperature. Unlike appliance ovens that experience hot spots and uneven air flow, the Memphis is engineered for total consistency. 
You never have to worry if you'll end up with a juicy roast or piece of meat that's charred on the outside and cold on the inside. 
Try One of These Great Recipes
Spatchcocked Chicken with Herbed Butter is the perfect recipe to showcase your roasting skills and the roasting capabilities of your Memphis Grill.  In just under an hour, you'll be enjoying the juiciest roasted whole chicken possible!
This time of year, Roasted Root Veggies are an ideal side to roast with any meal or as a fantastic dish on its own. Toss with oil and herbs, then slow roast to perfection on the grill—superb!
Ready for something more adventurous?  Try The Roasted Beet with Goat Cheese and Toasted Pecan Salad a rich salad that's robust enough to serve as a meal.
Next time you're hosting a get-together, impress your guests with Roasted Tomatillo and Chipotle Salsa. Roasting the veggies over an open flame gives them that rich, delicious flavor that will make your salsa a hit.
Roasted Flavor You Can't Get Any Other Way
Test the roasting capacities on your Memphis Wood Fire Grill today. It's a great way to mix up the menu while staying out of the kitchen. Find the closest dealer here. We'd love to get you roasting a savory meal everyone will talk about!