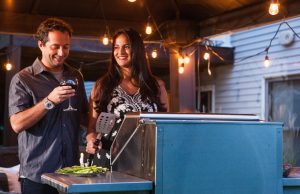 One of the greatest joys of owning a Memphis Wood Fire Grill is the ability to produce new and better dishes than ever before. We call our grills the backyard chef's secret weapon. The recipes you can create with your Memphis (grill, smoker, searer and convection oven) are almost limitless. That variety can lead to a new challenge—finding the perfect wine to pair with your dishes.
The Basics
The most basic advice you hear about pairing wine with food is as follows:
Red meat = Red wine
Fish and chicken = White wine
The reason for this basic rule is that fattier meats pair better with wines that have structure (meaning reds with higher tannin levels). Less fatty meats go with wines that have higher acidity (white wines). Wine pairing has no hard-and-fast rules, however. Depending on the preparation and the type of fish, some dishes can be paired with Pinot Noir, Syrah (Shiraz) or other, even bolder red wines. What you are trying to do is find a wine that will not overwhelm or detract from the taste of the food it accompanies.
The Recipes
To help people experience get the most from their grilling experience, we provide several delicious recipes on our website. We cover everything from appetizers to desserts. Here are just a few of the recipes we recommend, along with a little advice on what wines might work best.
These delicious fajitas take advantage of the Memphis grill's power to smoke, sear and grill meat to perfection. The tri-tip is coated in cumin and steak seasoning before being smoked for one hour. When the recipe is complete, you'll have a dish with the bold, rich flavor of steak combined with elements of sweet, cream, and a hint of spice.
As for the wine, you'll need something with sufficient body to stand up to all that flavor. Try a Mourvèdre (Monastrell) or a Zinfandel.
These savory herb-crusted pork chops are juicy on the inside with that perfect light crispiness on the outside. The chops are rubbed, then smoked for one hour. A quick reverse sear provides the perfect texture to the meat.
Pork is an incredibly versatile meat. It is the protein that moves most easily from white to red wines, depending on how it is prepared and what it is served alongside. For this preparation, we recommend a Spanish Tempranillo (Rioja), though you can't go wrong with a Grenache or the right Pinot Noir.
With a delightful rub made from brown sugar, sage, salt, thyme, black pepper and lemon pepper, this recipe is one that even dedicated steak lovers should try. After cooking, the salmon filets are brushed with a bright, acidic citrus butter. The result is slightly sweet, but with all the richness that salmon promises.
Few dishes are more likely to provoke an argument among wine drinkers than grilled salmon. That fight usually surrounds the choice of Chardonnay to go with the dish. Our recommendation is for Pinot Noir, though having an unoaked Chardonnay on hand might be a good idea.