Fall Fare & Grilling: What Fall Has in Store
While it's true that you can get almost any fruit or vegetable year-round, thanks to advancements in shipping and storage, it is also true that in-season, local produce has no equal from a flavor standpoint. You can buy a peach in February. That doesn't mean you're going to love it.
Now that autumn is upon us, what are the dishes most likely to make us smile (and forget the coming of winter)?
Produce To Look For
There are many fruits and vegetables that reach their peak of flavor in the fall. These include: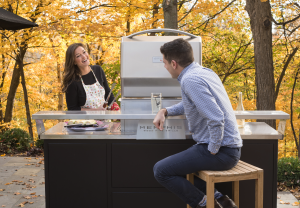 Apples
Beans
Beets
Bell peppers
Cabbage
Carrots
Cucumbers
Eggplant
Potatoes
Pumpkin
Squash
Sweet corn
Sweet potatoes
There are countless ways that your Memphis Wood Fire grill can cook up something special using these ingredients. Here are a few of our suggestions:
A is for Apple, and that's good enough for me. The glorious apple season is in full swing and with such an amazing variety of fruit and ways to prepare it, we could probably create a week's worth of menus featuring nothing else. For now, try this recipe for apple crumble pie. Use your favorite baking apple, or try ours, the Haralson.
This roasted beet salad is a delightfully balanced and flavorful addition to any fall day. Beets are often misunderstood, but they add an earthiness and color that can really make a dish pop.
Cabbage is a delightfully healthy and robust vegetable. For a preparation sure to wow your guests, try this recipe for a smoked whole cabbage with bacon/onion stuffing.
It wouldn't be autumn without the sight and smell of pumpkin. This iconic fruit (yes, it's a fruit) is packed with vitamins and fiber, making it an excellent addition to soups and stews. We'll stick with the delicious basics, however, with this recipe for classic pumpkin pie.
The fall menu would not be complete without at least a helping or two of autumn squash. This recipe for baked autumn acorn squash goes particularly well with pork chops.
Last, but not least, on our fall menu is this delicious recipe for candied yams. This recipe is remarkably fast and simple, producing a sweet, creamy, delicious concoction that shouldn't be limited to Thanksgiving dinner.
What Are You Waiting For?
These and countless other recipes can be prepared using your Memphis Wood Fire grill. Grilling, smoking, baking and roasting are all possible using your Memphis. You will be surprised what you can create to make this autumn your most flavorful yet.
To learn more about our grills, find the Memphis location nearest to you or contact us today.