An outdoor kitchen space takes the comforts of your indoor kitchen outdoors and creates a space for you and your family to enjoy year-round. As you design your dream outdoor space, consider this: there's so much more available to you than a simple cooking area.
5 Must-Have Features for the Complete Outdoor Kitchen Space

What does the average spend, $13,000, on an outdoor kitchen get you? Most homeowners creating the perfect outdoor kitchen space aren't skimping. Here are the must-have features in their design:
Multiple cooking surfaces: Multiple cooking surfaces mean more space for preparing your favorite meals. This includes additional burners on the outdoor stove, warming racks and even rotisseries. Some grills, such as our wood pellet grill, allow you to bake, smoke and sear, without any extra appliances.
Typical kitchen appliances: If it's included in your indoor kitchen, it's available for your outdoor space. Appliances such as ice makers and wine coolers are available to help round out your space.
Stainless steel cabinets: Stainless steel cabinets and drawers are perfect for storage and are weather-resistant. They also coordinate seamlessly with your stainless steel grill.
Outdoor seating: Your outdoor kitchen isn't complete without a space for family dinners and entertaining. Choose from traditional table seating or build in a seating wall for a unique feature.
TVs and other comforts of home: Yes, some outdoor kitchens include TVs and other comforts such as outdoor fireplaces. Adding these features help you create the illusion of indoor living while enjoying the outdoors.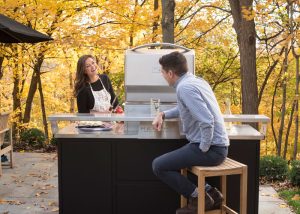 Don't Forget Your Outdoor Kitchen's Curb Appeal
Almost all homeowners, 84%, use professional installers for at least part of their outdoor kitchen installation. After all, masonry, landscaping and other professional services can greatly enhance the curb appeal of your outdoor space.
Around 60% of homeowners choose stone or brick to help enclose the border of their kitchen area and 24% use trees and shrubs for landscaping around the perimeter. Designing a border helps designate your kitchen from the rest of your outdoor space.
From Grills to Stainless Steel Cabinets, We Can Help.
Outdoor kitchens keep gaining in popularity and we're definitely on board. We offer the best in wood pellet grills as well as stainless steel cabinets and drawers to complete your cooking space. To learn more, visit a Memphis dealer or contact us today.