Outdoor cooking is one of the great joys of summer. (It's also one of the great joys of spring, autumn and winter if you ask us, but there is no doubt that summer is peak season for grilling.)
When it comes to outdoor cooking, there are several options available to meet your needs. Wood pellet grills, traditional charcoal grills, kamado grills and propane grills all have their pros and cons. One area that is often neglected in making this decision, however, is the design and aesthetic appeal of your outdoor kitchen.
What Does Your Outdoor Space Say About You?
No matter how much you love the feel and flavor that outdoor cooking provides, if your outdoor space is unappealing, you're less likely to use it. And while a traditional, hemispherical charcoal grill has its place, it is hardly a feast for the eyes.
Many people who invest time and energy in their outdoor kitchens prefer the option of having a built-in model for their cooking. That's where we come in.
Competition? What Competition?
People who value versatility and quality in their cookers really only have two options. You can go with a wood fire pellet grill or a kamado-style grill. Both operate as grills, convection ovens and smokers.
Memphis Wood Fire Grills can match the low and high-temperature versatility of kamado grills. But it  can take your cooking and flavor to the next level by providing a set-it-and-forget-it ease and delivering a real wood flavor that only pellet grills can offer.
Memphis Grills also stand out for their appearance and ability to make an outdoor cooking space feel special. If you want a built-in model, Memphis is currently the only pellet grill on the market that can meet your needs.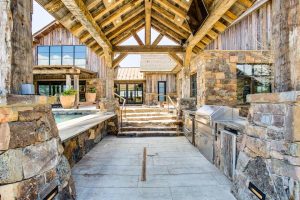 Versatile in Function, Versatile in Looks
If your dream outdoor cooking space is still on the horizon, you can plan ahead by choosing the option that will allow growth down the road. Memphis Wood Fire Grills are incredibly durable. And our slide-in kit means that you will have the option of incorporating a beautiful, built-in, stainless-steel wood fire when the time comes to make your dream a reality.
You can enjoy the cooking, grilling and smoking power of your grill now, without sacrificing your plans for a beautifully designed outdoor cooking space tomorrow.
Perfect for Every Occasion
The right grill can open you up to new flavor experiences every time. And with a Memphis Grill, you don't have to work harder to get the flavor profiles you desire. With our Intelligent Temperature Control™ technology, you can rest easy and focus on your guests while the grill does the heavy lifting for you.
Whether you want to build one of our grills into your design today or you want the ability to do so in the future, we have a solution that will work for you. Find an authorized Memphis dealer near you or contact us today to learn more.