We love cooking with Memphis wood fire. It's pretty much as close to a caveman/woman as you can get (we'll just overlook all the handy high-tech gadgets our grills have for the sake of this fantasy). Thanks to the convenience of modern-day grocery stores, a simple trip down the street supplies us with food from all over the world. Despite the ease, there's something to be said for eating whatever is in season – more often than not, it's a heck of a lot tastier.  There are a ton of foods in season right now (besides meat because that is ALWAYS in season), just waiting to find a home on your grill (and in your stomach, you caveperson, you).  Get to it!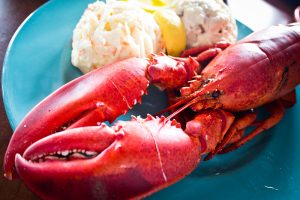 Lobster
You can pretty much find lobster year-round, but because lobsters follow warm water, summertime brings them in closer to shore, making them easier for fishermen to catch and therefore, more plentiful in the market.  During late summer, especially after Labor Day, expect to see lobster on many a plate.
If you are having a hard time finding lobster, or aren't lucky enough to live on the coast, many lobster retailers online will send you fresh, live lobster shipped with seaweed and ice. Luxurious lobster sounding pretty appetizing right now? How about this recipe for Grilled Lobster with Cilantro Lime Butter? (Bonus points as cilantro season peaks in early autumn.)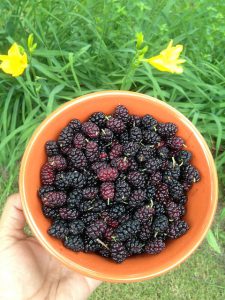 Blueberries, Blackberries & Mulberries
There's nothing like some wild berries in a bucket to remind us of summer. Fresh berries are great and if you can manage to hold off from devouring them before they make it to a plate, we have the perfect recipe for you: Mixed Berry Cobbler.
You may be thinking once you've had one cobbler, you've had them all. Oh contraire, my grill-loving friend. Taste a cobbler hot off a Memphis and you won't ever go back. This recipe calls for blueberries, blackberries and raspberries, but we've got a better idea: why not replace the raspberries with in-season mulberries? They're tart, sweet, and high in cancer-preventing, anti-aging, miracle-causing vitamins, and minerals. In fact, berry-filled cobblers are practically a health food. (At least that's what we're telling ourselves.)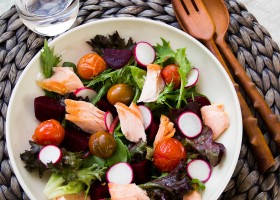 Salmon (Plus Beets, Greens, Tomatoes & Radishes)
If this combo doesn't intimidate you (which we're highly doubting it does, considering you're a Memphisite), boy, are you in for a treat. Nearly everything this recipe calls for (besides the French dressing) is in season right now!  Fresh salmon is especially tricky to come by, so the minute, no – the second you see signs advertising salmon outside your local grocery stores, run inside and get your hands on that flaky deliciousness. Enough blabbing–here's the recipe! Skip buying mixed salad greens and use fresh arugula and the greens from your beets and radishes.
Too much, too soon? Stick with these Caribbean Jerk Salmon Tostados with Grilled Pineapple Peach Coconut Salsa.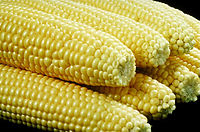 Corn
Okay, we get it. Some of you aren't summer people. And that's fine – we have some seriously delicious suggestions for those of you wanting to jump the gun on fall. Grilled corn on the cob (while completely drool-inducing) is child's play when it comes to your Memphis. Take it to the next level by making grilled cornbread with fresh (and completely in season) sweet corn.
Plus, this recipe calls for pork because, let's face it, pork is good no matter when you're eating it.
We know what you're thinking. Can I pretty please substitute the peaches (which are in season too, doncha know) for those apples I just picked at the orchard? Go for it! Just keep in mind that because apples are crispier than peaches, you'll need to cut the apples thinner and grill them a bit longer.
There you have it: a bunch of ways you can channel your inner cave-dweller, eat like a local and go to bed with a happy stomach. Have more ideas for ways to utilize foods while they're in season and the grill is hot? Send them our way! And remember: Meat is always in season as far as we're concerned.
Further Reading: