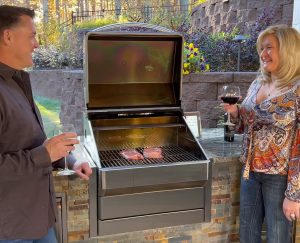 Forbes.com–posted June 7, 2022
Memorial Day Weekend is the unofficial start of backyard cooking season, and for many of us that means entertaining. Entertaining in turn, means a chance to show off, and face it, everyone wants to impress their guests. One way to do that is with the food. Another is with the hardware itself, giving your neighborhood a bad case of grill envy.
I write regularly on the topic of grills and smokers here at Forbes and elsewhere, but today I am focusing on some statement models, those that will widen the eyes of innocent onlookers while performing at a very high level for you, both at parties and for everyday use. A couple of my long-time favorites in their categories have all new models out this year and have gotten better than ever, while there are some standbys you just can't pass up.
Memphis Grills Pellet Smokers: Pellet smokers/grills have been the hottest category in outdoor cooking ever since the "low and slow" authentic Southern smoked barbecue craze took off nationwide years ago, because these smart, easy to use devices let anyone turn out competition-worthy ribs, brisket, pulled pork and a whole lot more with the least imaginable fuss, muss and oversight. Thanks to the "set and forget" technology, I've put in ribs and gone off to play 18-holes of golf or go for a long bike ride only to return to mouthwatering dinner. But that's only half the story – unlike most other kinds of smokers, pellet grills can theoretically do it all, grilling, searing, roasting and even baking, and there's a good argument to be made that if you can have only one outdoor cooking device, it should be a pellet grill. But the category's success and popularity has led to commoditization and dumbing down, and there are many cheap, inferior pellet grills on the market today. Lower quality manifests itself in many ways, including construction, durability and convenience features, but mostly in less precise electronics, the all-important thermostat that is needed to keep a constant steady low and slow temp, and in the grilling features such as searing – many lower-end grills just can't get hot enough.
I've had several good pellet grills, but for years my go-to favorite has been a Memphis Pro, a sleek, commercial quality, championship ready model that was the first on the market to develop a two-hopper design that lets you custom blend different flavor wood pellets at once. It was also the first model to add a removable/interchangeable burner cover feature so you can actually cook over an open flame, like on a charcoal or gas grill, at higher than typical temps. Many pellet smokers get hot enough to grill, but not over a flame. I've been smoking on my Memphis Pro for many seasons, it sits outside in frigid snowy northern winters (with a basic grill cover), and it still looks brand new, thanks to the high quality and very heavy-duty design.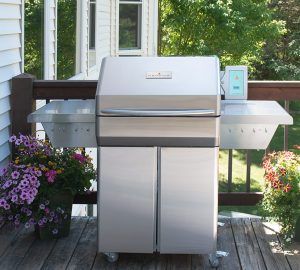 But this year the company upped the ante with their new ITC (Intelligent Temperature Control) lineup, which add a lot of things. It already had very precise digital thermometer, but now boasts a touchscreen panel with more options, connected to the new Intelliburn technology. This is basically the smartest smoker out there, generating more heat from less fuel with a proprietary secondary combustion system. You use fewer pellets, and when cooking above smoke mode (grilling, etc.) you also get a cleaner cook. This is the biggest upgrade, but the new generation ITC3 grills also add a combustion blower system that improves temperature consistency during those long cooks. The Memphis Grills smokers can run from 180° (you'll never want less) to 700°, which thanks to the unique open fire configuration, is far more than many pellet grills can obtain, and higher than even some gas grills should safely be operated, offering pro steakhouse sear. Many new grills have connected meat probes, but this one helps actually control the ITC brains, and the result is not only perfect smoking, but automatic adjustments that simulate the flexibility of a 2-zone grill without the oversight when cooking other meats. When you reach your desired cook, the grill will even turn itself down and keep your food warm until you are ready to eat.
The standalone models look a lot like my previous one, but having just assembled a new one, I can vouch that it adds some other powerful conveniences, like sliding (outwards) side tables that reveal a ton of extra, watertight storage underneath that you can access without bending down, as well as the same large two shelf storage in the cart below. A new grill layout lets you add an optional 500-plus square inches of second level smoking space (or a place to move stuff off the flame when grilling), and in a very small footprint you now have a lot of storage and the capacity to make five (at least) big racks of ribs at once. Even the wheels are improved, with very heavy-duty locking casters, and the entire thing is rock-solid construction of high-gauge, high-quality stainless steel that puts big box models to shame. It's still got the cool two-hopper pellet design, and if there is a bell and whistle in the smoker world, from Bluetooth to smartphone apps, these have it. I've tried a lot of pellet grills, and not only does the Memphis lineup smoke as well – or better – than any of them, it is also better built and does things others cannot do or does them better.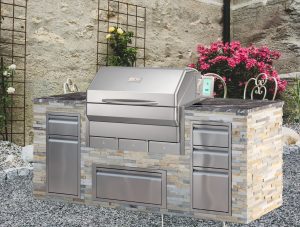 The new ITC lineup is available in two built-in models for outdoor kitchens ($5,299-$6,899) and two freestanding cart models, with side tables and underneath storage ($5649-$7,399). If you are serious about your barbecue, this is a serious tool.