The versatility of a Memphis Wood Fire Grill is a feature unmatched by other outdoor cooking solutions. That versatility is part of what inspired us to work so hard to make cooking with a Memphis simple. Options are wonderful, but they can be overwhelming if they aren't presented properly. One of the choices that wood pellet cooking presents is which kind of pellet to use for each application. This is a guide to help inform your choice of wood pellet, depending on what you are preparing tonight.
Your Wood Pellet Options
Wood pellets offered by Memphis come in the following varieties:
Apple provides a sweet, fruity flavor
Cherry produces a slightly heartier fruity flavor
Hickory gives food a strong, smoky flavor. Probably the most common choice for barbecuing.
Maple creates a milder, lighter smoky flavor
Mesquite produces a strong, robust and unique flavor
Oak creates a very mild wood flavor
Other wood pellet companies produce their own pellets and may include other varieties, such as almond, pecan or alder. As long as the pellet is of high quality, you should feel free to experiment with the flavors you can produce.
What's on the Menu?
The wood you choose depends first and foremost on your personal preference. If you want to bake grandma's chocolate chip cookies in your Memphis with the distinctive flavor of Mesquite we aren't here to tell you that's wrong. Our suggestions are merely what has worked for us in creating delicious recipes. Here is a general breakdown of which wood pellets work best with which dishes: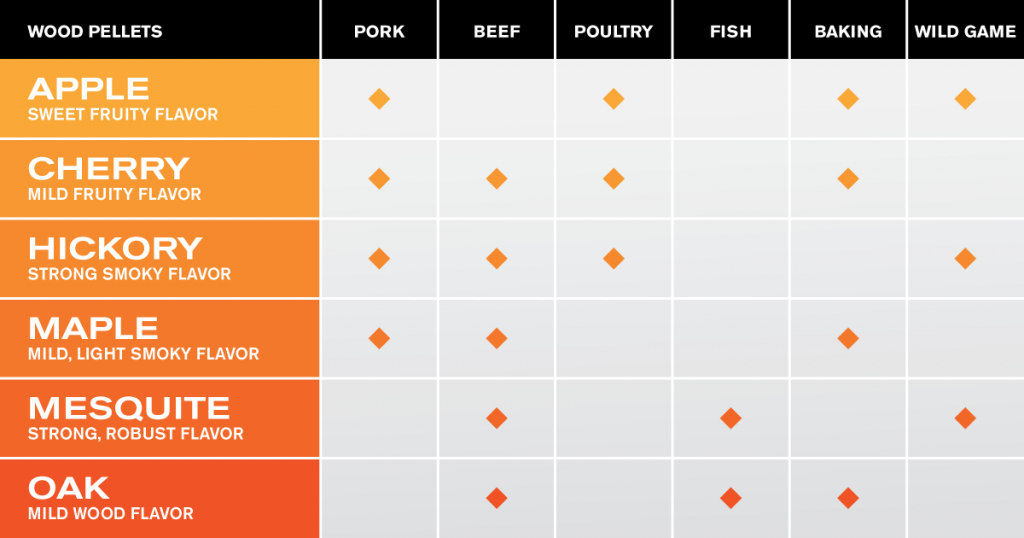 If you find a recipe for a Maple smoked turkey or a vegetable dish using Mesquite to create a Southwestern flair, don't let our suggestions slow you down. There are no hard and fast rules about pellet choice. Flavor is the name of the game, so find the flavors that work for you and get cooking!
A Note on Wood Pellet Quality
Memphis Wood Fire pellets are 100% natural hardwood. Our food-grade pellets come solely from trustworthy sources. We ensure that our pellets go through a heating and compression process that leaves them free from contamination, including bugs or diseases. The pellets are safe, high-quality and packed with the flavor that makes wood fire grilling stand out from gas or charcoal.
Find an authorized Memphis location or contact us today to learn more about the joy of cooking with wood.