Are you ready to take your pellet grill game to the next level? Look no further than this list of Memphis Grills 45 Best Pellet Grill Recipes, including our award-winning BBQ ribs! Say goodbye to boring burgers and hot dogs and hello to savory cedar smoked salmon and the decadent taste of smoked camembert cheese. With a pellet grill, the sky is the limit when it comes to experimentation with new flavor combinations and grilling techniques. So, fire up your pellet grill and get ready for some delicious recipes for your next backyard barbecue. Trust us, your taste buds will thank you!
What is a pellet grill?
For those of you who aren't familiar with pellet grills, they're designed to use wood pellets as a main fuel source and have become a force to reckon with in the world of outdoor cooking. Wood pellets offer both superior flavor and easy temperature control which puts them head and shoulders above gas and charcoal grills.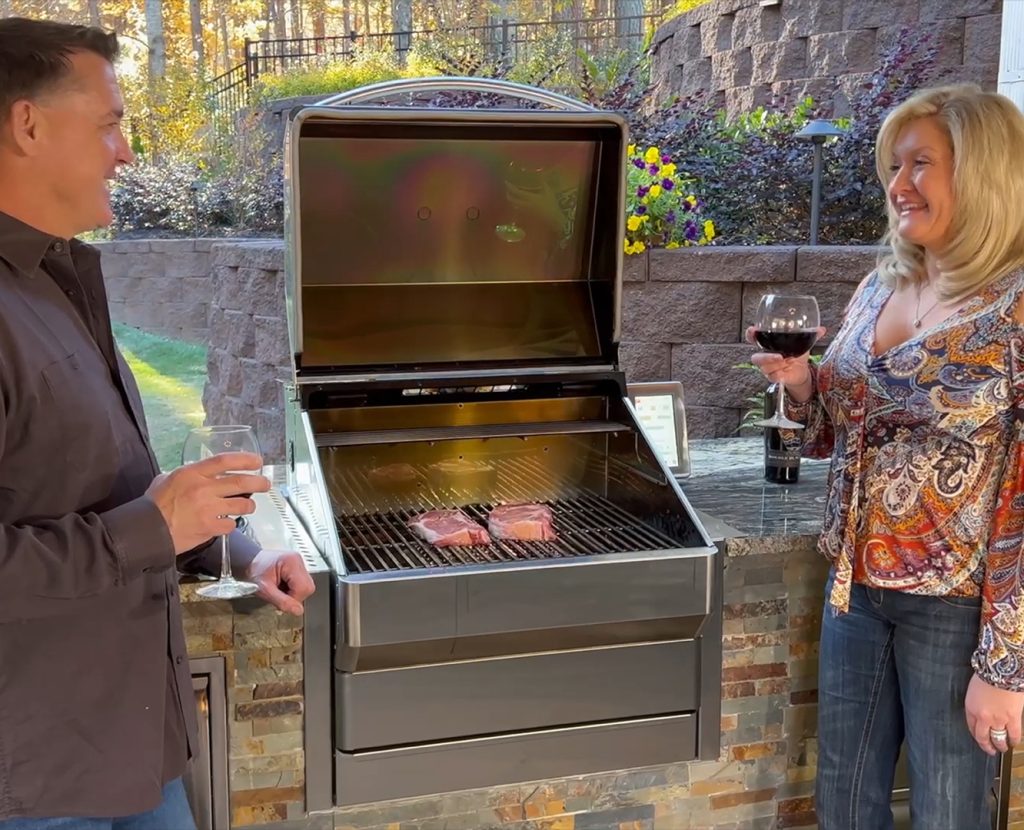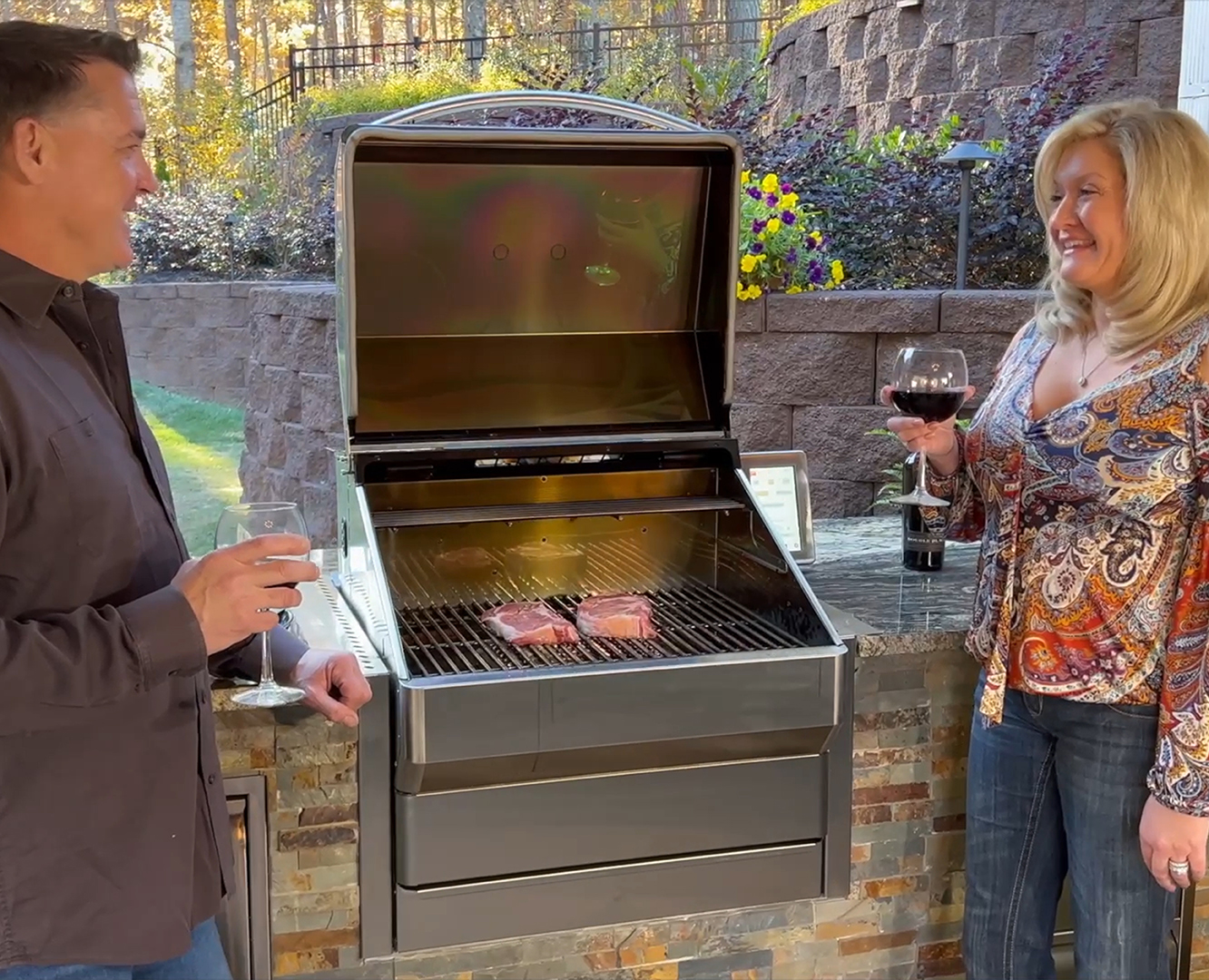 Can you make these recipes on any grill?
We're big fans of pellet grills in general (well, duh!) but it's important to note not all these recipes will work on every grill. Memphis Wood Fire Grills are the most versatile grills on the planet! Not only can you grill and smoke anything to perfection, but you can also smoke, bake, roast, and sear all your favorite dishes. Our grills are also designed to hold precise temperatures and you also can sear over a direct flame–just like the best steakhouses!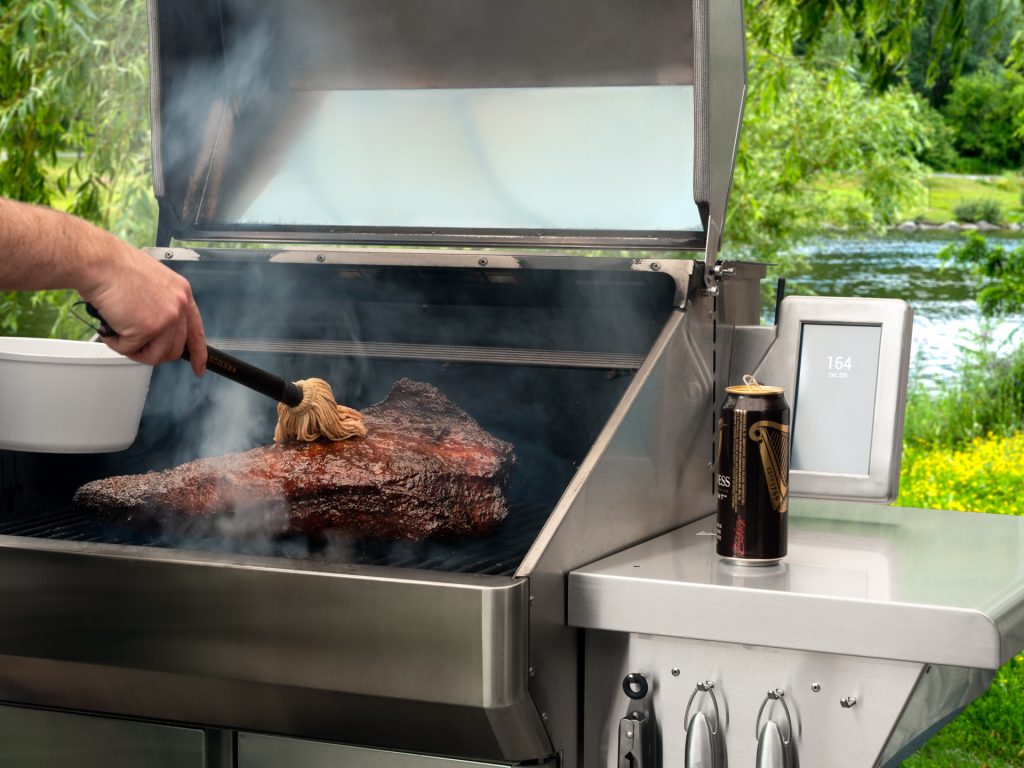 Grilling Recipes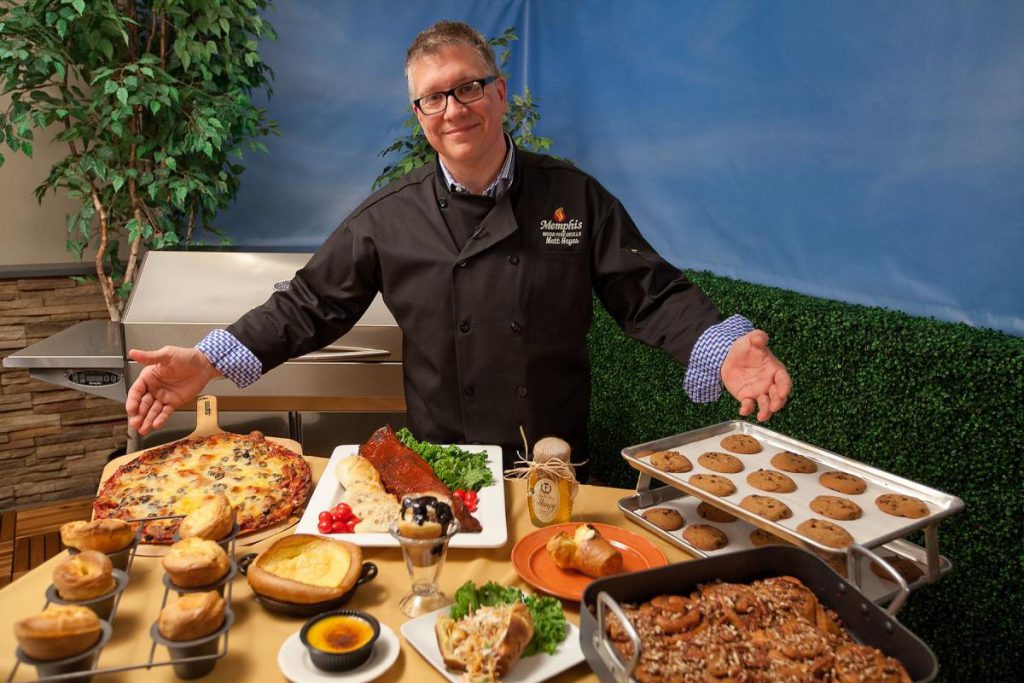 Beef Recipes To Make Your BBQ The Best On The Block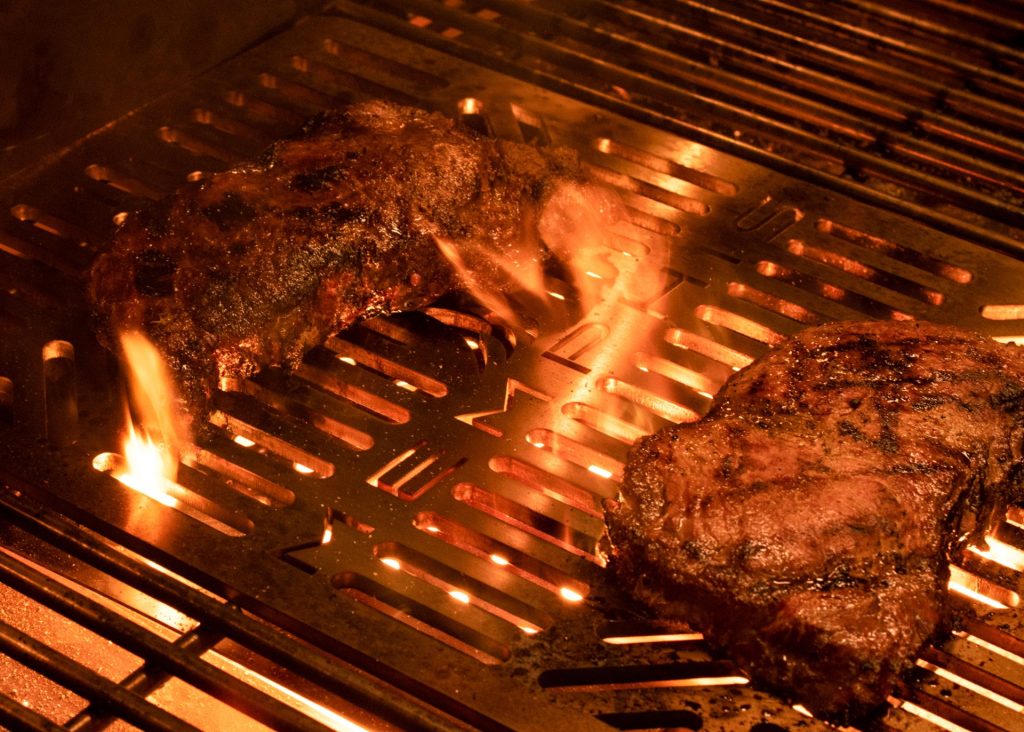 When it comes to beef recipes, there's nothing quite like cooking or smoking on a Memphis. Our grills add just the right amount of smoke flavor to your meat, whether you're making a smoked beef brisket, beef tenderloin, beef ribs with beans, or a flame-grilled New York strip steak. And, the best part is you don't have to be a grill master to cook on a Memphis Grill. All you have to do is set the temperature and let the wood pellets do their magic!
Memphis Low 'n' Slow Smoked Brisket: Amazingly tender and delightful smoked low beef brisket from our friend Chef Ryan Caulfield! Perfect for a party or a few days' worth of delicious leftovers.
Beef Wellington with Red Wine Reduction Sauce: Impress your guests with this decadent, delicious, tender, and juicy Beef Wellington recipe. Sear, bake, and serve this juicy beef tenderloin with red wine reduction sauce for an exquisite dining experience.
Easy Smoked Beef Jerky: Follow these step-by-step instructions to make your own smoked beef jerky, one of the easiest ways to take advantage of the flavor of smoking without having to spend all day tending a grill.
Memphis Strip Steak: Smoked and Seared: These steaks are easy to prepare on a Memphis pellet smoker and are always a meal worth remembering.
The Perfect Cheeseburger: The freshly ground beef and freshly sliced toppings this recipe uses ensures a flavor profile that pops.
The Perfect Grilled Pork Recipes For Every Occasion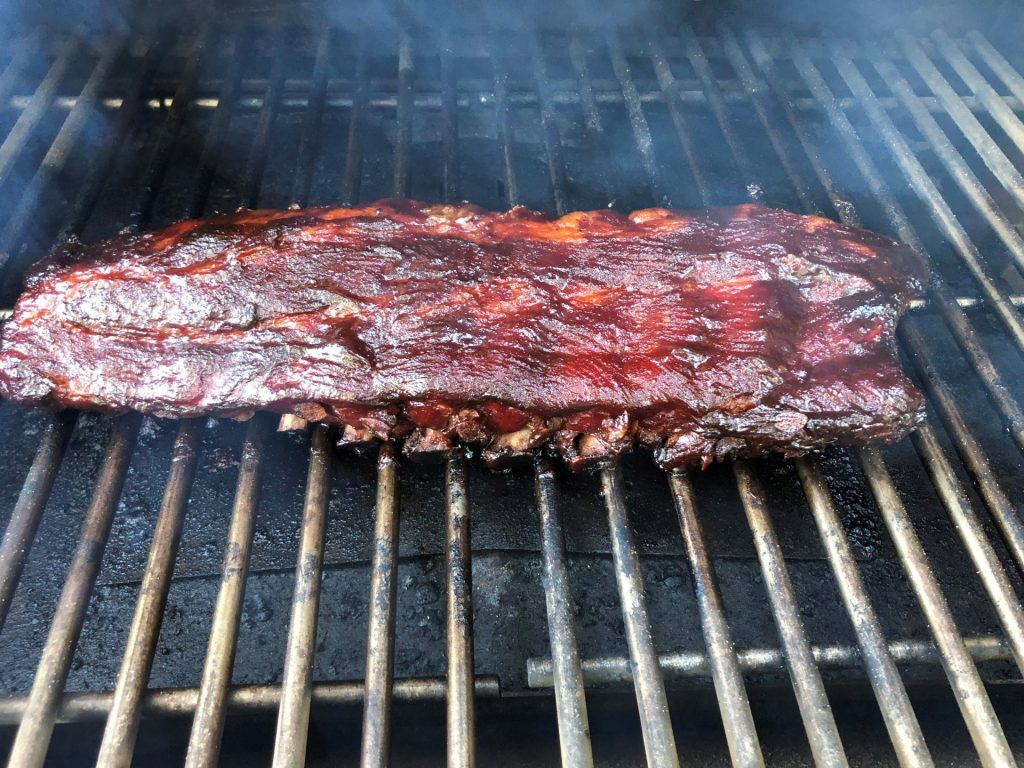 A juicy grilled pork chop, perfectly crispy bacon, or succulent grilled pork butt-is there anything better? Whether you're hosting a backyard barbecue or just looking for a delicious weeknight dinner, these grilled pork recipes are sure to satisfy any meat lover's cravings.
Award-winning Ribs: Our award-winning baby back rib recipe from our friend Chef Ryan Caulfield! The long slow smoke on low heat makes these ribs perfect every time.
Quick Ribs: A quick and easy pork ribs recipe that'll have your taste buds singing! With just a few simple ingredients, you can have tender and juicy ribs in no time.
Bourbon Smoked Pork Loin: Learn how to smoke pork loin like a grill master with this recipe from Steven Raichlen's Project Smoke. Pork loins are the perfect cut for smoking and this recipe gives the meat a delicious bourbon-infused, smoky flavor.
Boston Butt Pork Shoulder: Boston butt is one of the best cuts to cook low and slow. Follow this recipe to learn how to smoke a pork shoulder for shredded or pulled pork.
Grilled Pork Chops with Smoked Chunky Apple Sauce: Turn up the heat for your next outdoor meal with this recipe from Big Swede BBQ. The perfect pork chops and side for those who love salty and sweet flavors!
Delight Your Taste Buds With These Finger Lickin' Good Chicken Recipes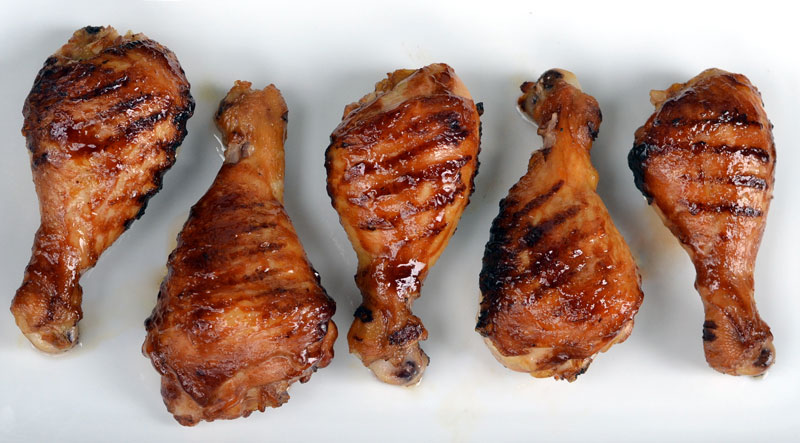 Craving some tasty chicken? Grilled chicken is an easy and delicious option for dinner. Whether you choose to grill chicken thighs, chicken breasts, or the whole chicken, any of these flavorful chicken recipes are guaranteed to be crowd-pleasers at your next cookout or family dinner.
The Best Chicken Legs You Will Ever Eat: It's not often that we dream of chicken legs, but when we do, these are undoubtedly the ones with the starring role.
Whole Smoked Chicken: We smoke whole chickens that have been brined or not brined and find both versions wonderful.
Smoked Teriyaki Chicken Wings with Sesame Dressing: Tender and juicy chicken wings smoked to perfection and slathered in teriyaki sauce. These bbq chicken wings are a must for any game day party!
Asian Wings: Sweet and sticky, these Asian-flavored wings make great finger food for a gathering.
Pulled Chicken Curry: Tender chicken cooked in a delicious curry sauce served with rice and naan. An easy and elegant meal to more than satisfy your curry cravings.
Grilling Seafood Has Never Been So Easy With These Delectable Recipes For Your Pellet Grill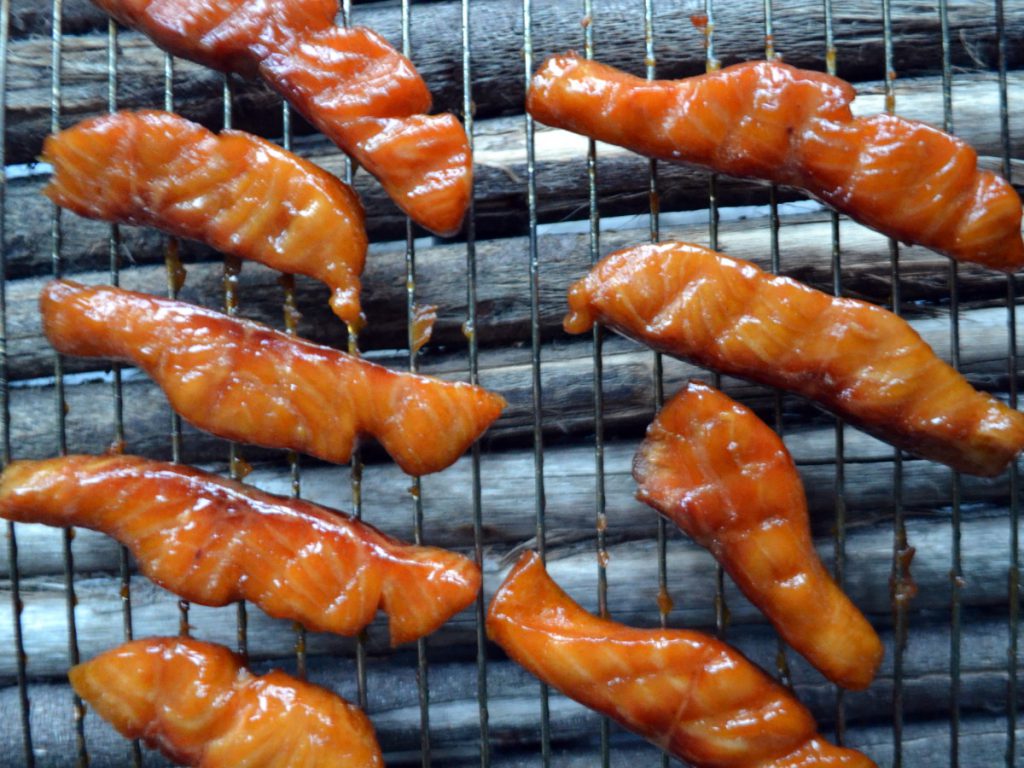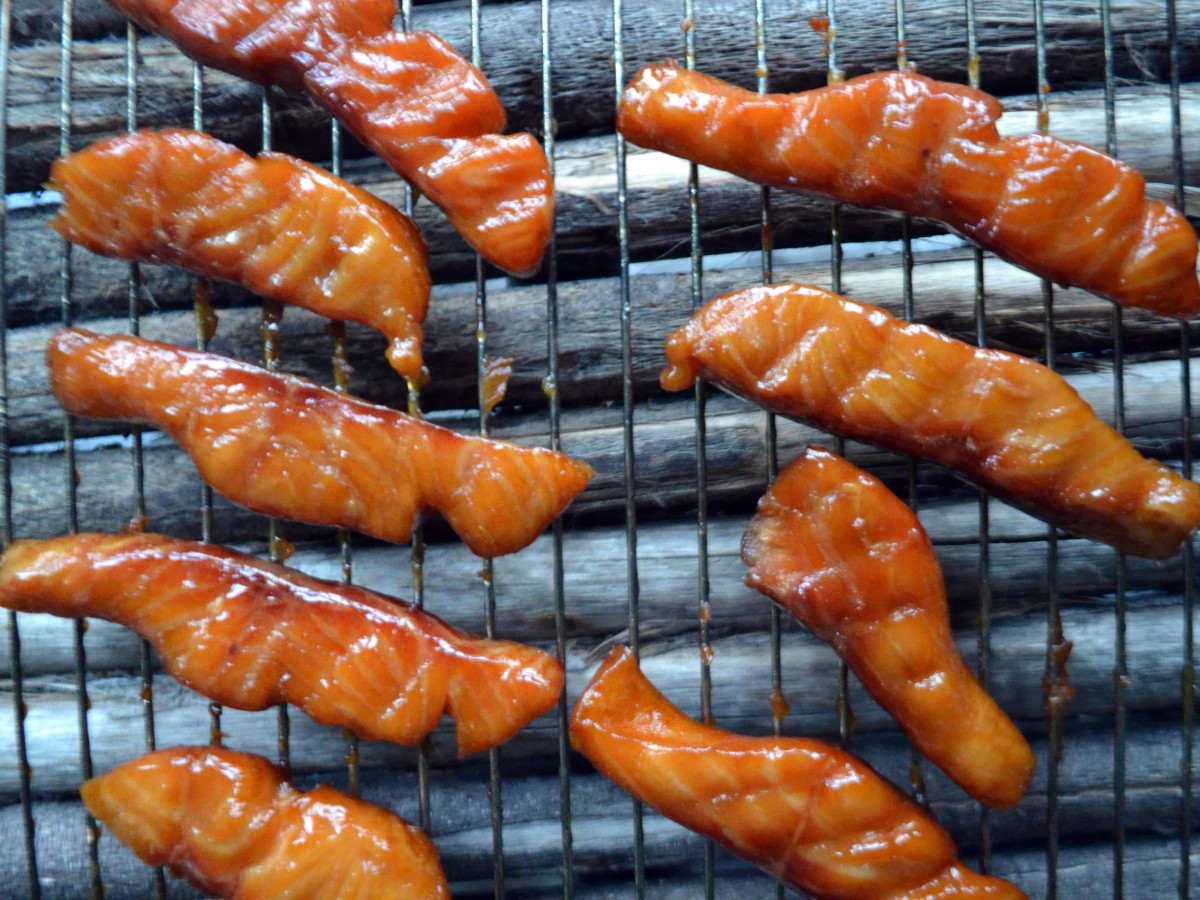 Ever grilled fish only to have it stick to the grill and fall apart? Say goodbye to those days with these delicious seafood recipes. From grilled trout to smoked salmon, the tenderness and flavor of grilled fish has never been so effortless. Break out the seafood and get ready for an unforgettable dining experience.
Smoked Trout: Serve each filet with a few lemon wedges and salad for a light meal, or add some Roasted Rosemary Potatoes if you want something more.
Maple Glazed Salmon: This succulent grilled salmon is something special. The maple syrup gives it a hint of sweetness, and the herbs and spices work together to create a fabulous flavor.
Grilled Coconut and Lime Shrimp with Caribbean Rice: Coconut and lime shrimp with a Caribbean flair is grilled to perfection and served over rice.
Smoked Salmon Candy: A delicious recipe for smoked salmon candy that's a great snack when you're out hiking or fishing. It delivers a hard-to-resist taste that combines smoky sweetness and salty savoriness all in one bite.
Smoked Clam Chowder: Although we are not New Englanders, we do like good clam chowder. This recipe takes it to the next level with a smoked twist.
Easy And Delicious Grilled Vegetable Recipes For The Perfect Side Dish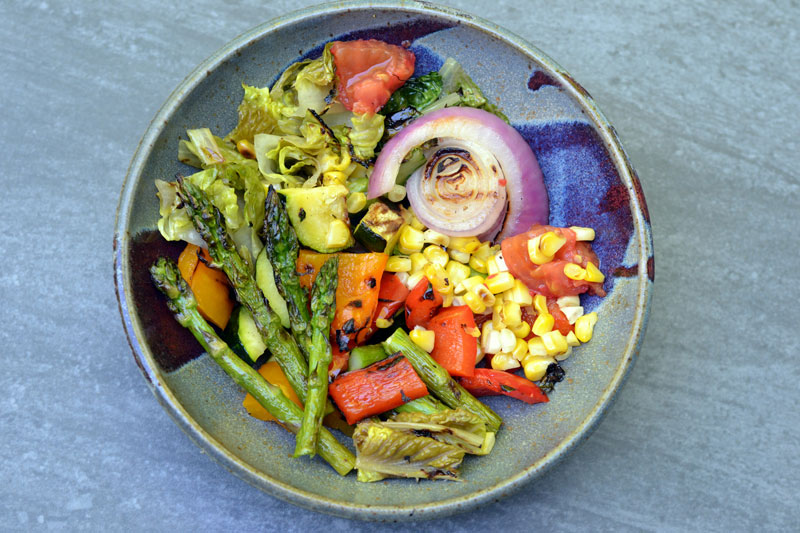 Who says grilled food has to be limited to proteins? Grilled vegetables are not only delicious, they make for a vibrant and healthy addition to any BBQ spread. Next time you fire up the grill, don't forget about these delicious grilled vegetable recipes. They'll be sure to please even the pickiest eater at your gathering.
Smoked Cabbage with Bacon and Onion Stuffing: A recipe for smoked stuffed cabbage with bacon, onion, and a few other ingredients that transform it from ordinary to extraordinary. Follow the recipe below to make this fantastic side dish that pairs perfectly with a pork butt or pulled pork in your pellet grill.
Baked Autumn Acorn Squash: This acorn squash recipe baked on a 100% wood pellet grill makes the perfect dinner side dish to get you into the fall spirit.
Grilled Summer Squash: Add this Grilled Summer Squash and Red Onion Salad with Feta Cheese to your favorite recipe file! It's a light, refreshing alternative meal for hot summer days.
Roasted Peppers: Learn how to roast peppers on your Memphis pellet grill for a quick and easy side dish or salad topping. This tutorial includes a simple recipe for roasted peppers marinated in olive oil and balsamic vinegar.
Roasted Root Veggies: We love roasting root veggies on the Memphis wood fire pellet grill. This cooking method deepens the flavors and brings out the natural sweetness of most root vegetables.
Grill Master Approved Appetizer Recipes For Your Next Backyard BBQ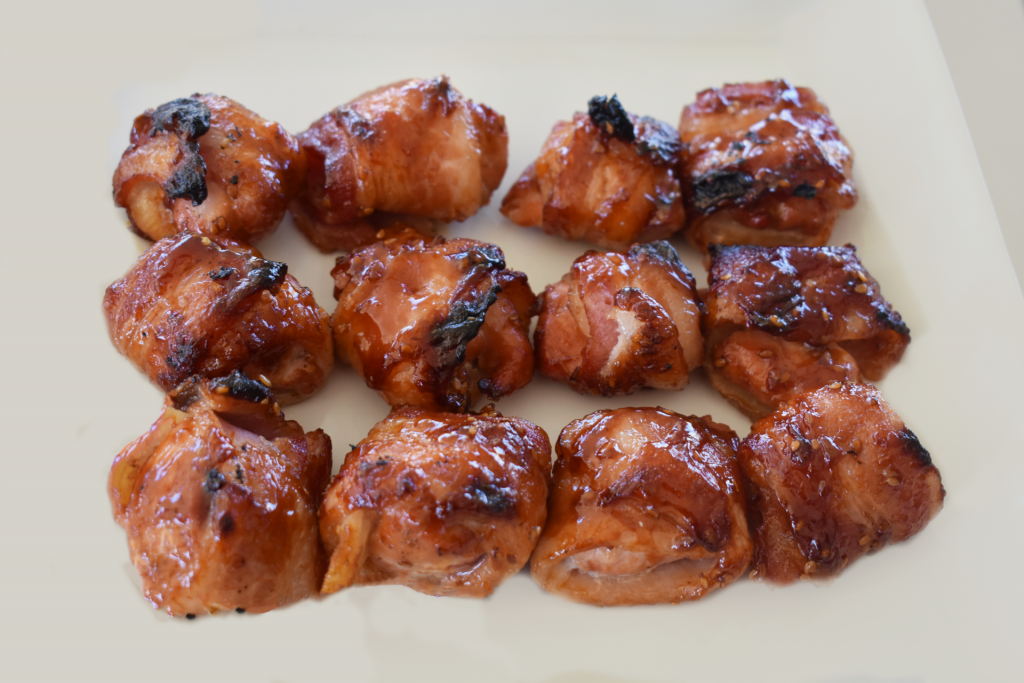 It's time to level up your grilling game with these yummy grilled appetizers guaranteed to impress your friends and family. With these grilled appetizer recipes, you'll be crowned the ultimate grill master in no time!
Smoked Baba Ganoush: Baba ganoush is a traditional Middle Eastern dip made with eggplant and tahini. The pungent flavor of garlic along with a slight touch of lemon makes this smoked eggplant dip hard to resist.
Greg's Bacon Wrapped Pheasant Rumaki: Preparing this sure-fire crowd-pleaser is quick and easy. Double the recipe if you have more than one pheasant breast—you might need the extras as these tasty bacon-wrapped appetizers go fast!
Roasted Tomatillo and Chipotle Salsa: A chipotle salsa recipe to add savory flavor to your game day gathering, weekend picnic, or poker night! Sweet and spicy with a hint of smokiness.
Stuffed Jalapeño Poppers: These spicy, cheesy, and creamy bacon-wrapped stuffed jalapeños are always the first appetizer to disappear at a party.
Smokey Meatballs: Bite-sized balls of meaty deliciousness with a sweet, smoky barbecue flavor. Great as an appetizer or main dish.
Delicious Dessert Recipes For The Perfect End To Your Meal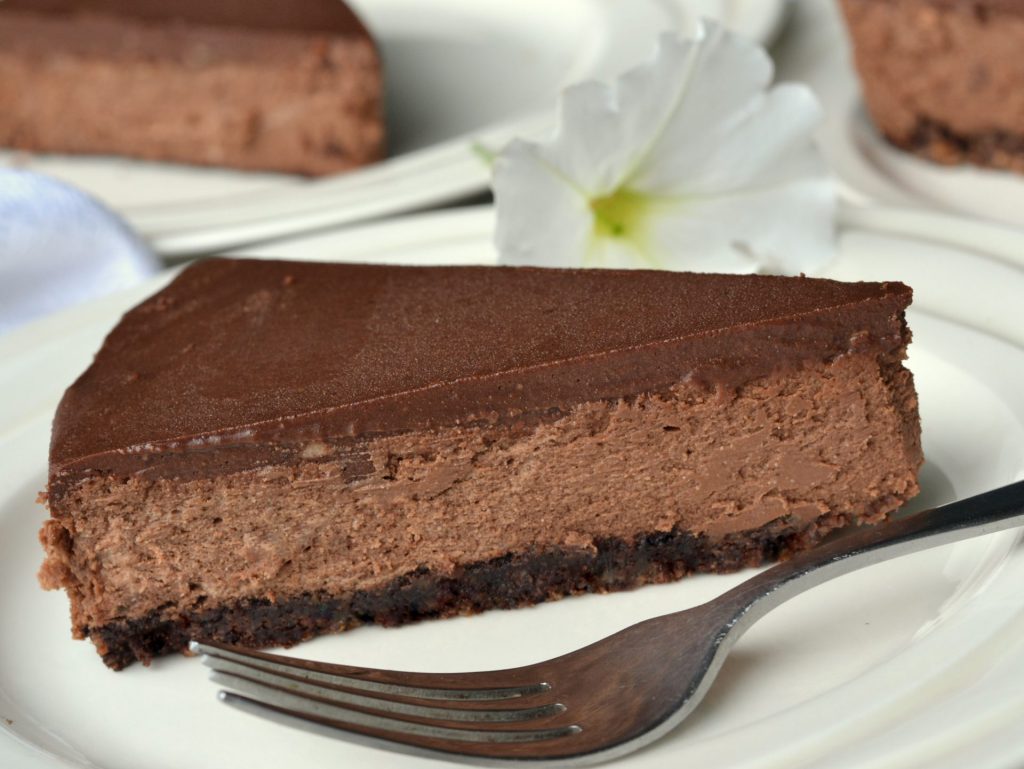 Dessert is the cherry on top of a perfect meal, and what better way to go out with a bang than incorporating your pellet grill? That's right! Grilling desserts is not only possible, but it can also add a whole new level of flavor. These delectable dessert recipes, made with the help of a pellet grill, will have everyone begging for seconds.
Grandma's Rhubarb Crunch: A classic recipe for summertime that will have your taste buds doing backflips. This rhubarb crunch is easy to make and even easier to eat.
Peach Crisp: Bake this Peach Crisp in a cast-iron skillet for a crispy, golden brown finish that will melt in your mouth! Serve it warm with ice cream or whipped topping for an amazing presentation that won't disappoint.
Grilled Peach Cobbler: Summer isn't complete without fresh peaches! Grill them on a Memphis Wood Fire Grill for an outstanding Grilled Peach Cobbler that you'll want to make all summer long.
Chocolate Cheese Cake: Indulge your tastebuds with this sinfully decadent chocolate cheesecake recipe. The slightly crunchy base, velvety center, and rich ganache topping all work together to create an unforgettable flavor.
Grandma's Homemade Chocolate Chip Cookies: We gave our grandma's homemade, melt-away, chocolate chip cookie recipe to the Memphis Grill Corporate Chef, Matt Hays. He cooked them on a Memphis Wood Fire Grill and they turned out delicious!
Bake Your Favorite Bread and Pastry Recipes On Your Pellet Grill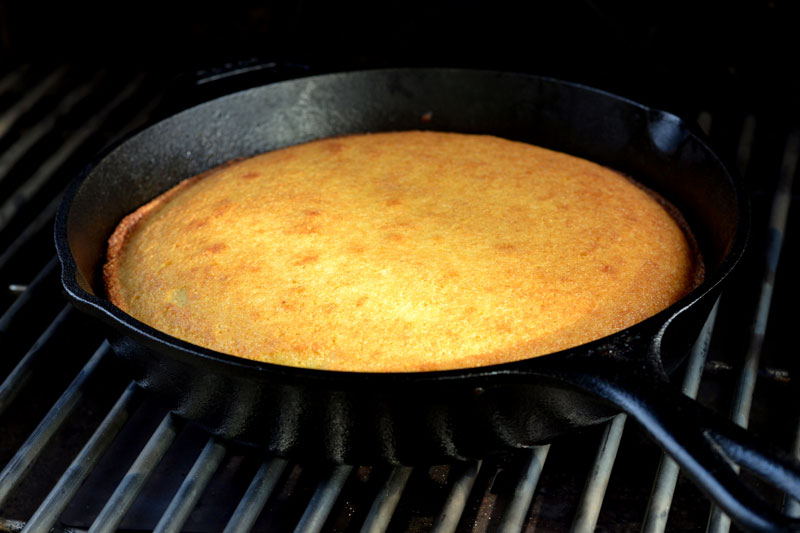 Have you ever tried baking bread or pastries on your pellet grill? If not, then you're missing out on a whole world of deliciousness! The indirect heat and smoky flavor from the pellet grill add an extra layer of richness to traditional bread and pastry recipes. And with all the different types of wood pellets available, you can experiment with unique flavors.
One Bowl Banana Bread: You can whip this no-fuss banana bread up using a bowl, a loaf pan, a wooden spoon, a measuring cup, and some measuring spoons.
Blueberry Muffins from the Grill: If you love blueberries as much as we do then you're in for a real treat! This step-by-step blueberry muffin recipe can be made right on your pellet grill.
Buttermilk Cornbread on the Grill: This cornbread recipe is perfect because it goes great with most meals, and it's easy to whip up for any occasion.
The Perfect Apple Turnover: Follow these instructions for the perfect apple turnover recipe. The puff pastry, apples, and cinnamon sugar are a delicious combination especially when baked on a Memphis Grill!
Overnight Cinnamon Buns: These cinnamon buns can be prepped the night before and then refrigerated overnight. They'll just need an hour to warm up before you pop them in the Memphis pellet grill the next morning.
Sweet, Smoky, Spicy, and Tangy Homemade Sauce Recipes
When it comes to grilling, the sauce can make or break the dish. Tired of store-bought sauce with too much sugar and not enough flavor? Stop buying and amp up your grilling with these homemade sauce recipes.
Smoked Garlic Aioli: An easy-to-follow recipe for smoked garlic aioli sauce that you can use on grilled burgers, steak, fish, or chicken. It's also delicious as a dressing for any type of salad!
Tamarind Molasses BBQ Sauce: This zesty take on a classic tomato-based bbq sauce can be used to cook up most smoked meats or for dipping after they're done. We especially love it with pork ribs and grilled chicken and duck.
Mustard-Based BBQ Sauce: A recipe for grillers that believe pulled pork cries out for a mustard base BBQ sauce. Our version is easy to make and delivers big flavor.
Tomato-Based BBQ Sauce: Our recipe for this all-purpose tomato-based bbq sauce is a great match for chicken, pork, and beef. If extra hot is your preference, add more chipotle powder or dashes of your favorite hot sauce.
Balsamic Glaze: Learn how to make a balsamic glaze from scratch. This versatile sauce can be used on grilled meats or in salad dressings.
Get grilling with even more mouth-watering recipes!
From succulent smoked ribs to traditional holiday favorites like pumpkin pie, we've got pellet grill recipes for every occasion and palate. And the best part? These amazing recipes make it easy for anyone to achieve low and slow smoking perfection. Gather your friends and fire up the grill–it's time to heat up the backyard!