From our friends at AmazingRibs.com:
Admit it, your favorite part of pulled pork is the bark, the deep dark, rich, sweet, chewy, crusty, jerky-like rind suffused with incredible complex flavor.
Admit it, when you're pulling the pork apart, and nobody is watching, you eat more than your fair share of the bark.
Admit it, beef brisket is great, but burnt ends are what you lust for.
Admit it, ribs are luscious, but it is the high bark to meat ration that you crave.
Turns out bark is a byproduct of complex chemical reactions: The Maillard reaction and polymerization chief among them.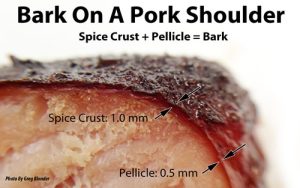 The process begins when we coat the meat with a spice rub such as my recipe for Meathead's Memphis Dust. Rub recipes vary, but most have salt, pepper, sugar, and paprika. Some of the ingredients will dissolve in water, some will only dissolve in fat. As the meat roasts slowly at, say 225°F, moisture from the meat and water vapor in smoke dissolves the water soluble compounds in the rub, such as the salt and sugar, melting the rub into a gritty slurry (click this link to learn more about what is in smoke). Fats bubble up from within, mix with the rub and dissolve some of the spices that are fat soluble.
Continue reading the article here.