While gogigui (pronounced go-jee goo-ee) may sound like the name of an evil villain straight out of a Marvel comic, fear not; it's just the South Korean word for a favorite regional style: Korean barbecue. Whether you're having bulgogi (think thinly cut beef sirloin or tenderloin) or galbi (marinated beef short ribs), you won't be disappointed. You say gogigui, we say delicious Korean BBQ.
What to Expect
For a typical gogigui meal, expect to whet your appetite with an array of side dishes, or banchan, that are served before the barbecue, family style. "Girl Meets Food" blogger Michael DeVito says these can range from spicy pickled vegetables (kimchi) to mushrooms and bean sprouts.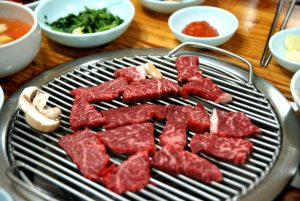 After sampling the banchan, it's on to the main (and meaty) event. Depending on where you are, your host will cook the gogigui on a hot grill that is either set onto or built directly into your table, or let you try your hand at searing the soy and sesame-based marinated beef yourself. Typically served with lettuce, rice, bean paste, scallions or leeks and garlic, you're encouraged to make up a sort of lettuce wrap, but Josh Friedland of thefoodsection.com warns against getting carried away. Adding banchan left over from earlier to your wrap is highly frowned upon; the meat is made to stand (mostly) alone.
We at Memphis would love to have one of our grills built into a dining room table (exterior only please and if you've somehow managed to construct such an edifice, we would love to see it), but this shouldn't stop you from taking to the patio, cracking open an ice-cold Hite (a Korean beer) and preparing yourself for the taste explosion that is Korean barbecue. Go rogue with your flavors and banchan (your mother's famous potato salad might be pushing it), or follow this recipe:
Korean Barbecued Short-Ribs – http://www.thekitchn.com/why-not-korean-bbq-for-memoria-85313
Further Reading:
http://www.girlmeetsfood.com/demystifying-strange-foods-korean-bbq/
http://www.thefoodsection.com/foodsection/2005/04/korean_barbecue.html
http://iml.jou.ufl.edu/projects/students/hwang/character1.htm