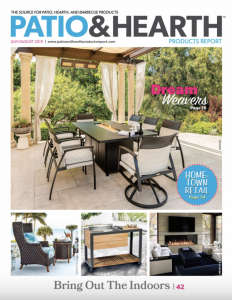 Memphis Wood Fire Grills has made a definitive mark on the grilling industry with its innovative pellet grills. This year marks its 10th anniversary as a pioneer and leader in helping to bring wood fire cooking from a niche category into the mainstream. Patio & Hearth Home Products met up with Sharla Wagy, general manager, to get the latest buzz on wood fire grilling and to find out what makes Memphis a dealer and consumer favorite.
What put Memphis Wood Fire Grills on the map in the industry?
Wagy: Wood fire cooking has been around for many years. Memphis has a passion for good food and has brought the art of wood fire cooking to the next level with its versatile products that make it easy to grill, smoke, bake and roast almost anything you can dream up. We understand grills and know what customers want. Our grills are constructed of the most durable stainless steel on the market; feature the latest in grilling technology; and their clean, professional aesthetic amps up the style of any backyard kitchen.
What is the appeal of wood fire cooking with pellets?
Wagy: Basically, wood fire cooking makes food taste better by enhancing the flavor and juiciness of the meat or whatever you're cooking. While the pellets are burning, flavor is slowly infused into the food. We offer six hardwood pellet flavors: hickory, mesquite, maple, oak, cherry and apple. The natural moisture in the pellets is what makes for juicy, mouth-watering flavor. People like the fact that pellets are easy to use (simply pour them into the grill hopper), convenient to store (they come in manageable 20-pound bags) and long-lasting (a 20-pound bag of pellets lasts about as long as a 20-pound liquid propane tank).
What were the company's standout moments over the last few years?
Wagy: In 2016, we introduced our Intelligent Temperature Control (ITC) system, which changed the face of our products. With the touch of a button, ITC makes it simple to do everything on a Memphis grill, from low-and-slow smoking to high-temperature searing. That same year, we introduced a free cloud-based app—the Memphis Mobile App—that allows you to monitor and adjust the temperature of your grill from your cellphone or tablet, o matter where you are. For me personally, I love the app because I can turn on my grill, go inside to start preparing food, and I get a text when the grill reaches the right temperature. People often tell me they would never use the app but I can say, from experience, that once you get used to the convenience, it's hard to go back.
What makes Memphis Wood Fire Grills a dealer favorite?
Wagy: Pellet grills that are used for wood fire cooking are the fastest growing segment in the industry. There are many entry-level pellet grills on the market for first-time users, but Memphis grills give dealers a product they can sell to consumers who are ready for the next step up. They're sophisticated, long lasting and provide cooking versatility. Our grills make it possible to sear a steak, smoke a brisket and even bake fresh bread because they are a convection oven as well. The Memphis Grill also provides dealers a premier pellet grill to offer their customers, at a price point that puts a nice deposit into their bank account.
What should dealers be looking for in the coming year from the grill industry?
Wagy: Many traditional gas grill manufacturers are starting to sit up and take notice of wood fire grilling with pellets. This past year at HPBA, many of them were offering at least one pellet grill in their product lineups in an effort to take advantage of the momentum of this growing industry trend. As far as quality and technology goes, we are always looking at new technologies and details that we can change, add and improve on our grills. Dealers are going to be seeing more sophisticated products that make grilling more convenient and fun.
What Memphis Wood Fire Grill products are getting the most buzz in 2019?
Wagy: This year, we introduced the Beale Street grill, which has the versatility of our Memphis flagship brand at a price that fits most budgets. Named after a historic street in Memphis, Tennessee, Beale Street is constructed of 430 stainless steel, can cook at high temperatures (up to 550 degrees) and has a sophisticated cart design that's different from most other pellet grills on the market. It's operated by our intelligent temperature control system and retails for just under $2,000. We've received a great response from our dealers, and they are excited to bring it into their showrooms as soon as possible. They feel like it's going to do well because it fills a gap in the market.
How is the company working with dealers to raise awareness of its products and grilling?
Wagy: We have an outstanding team that is passionate about wood fire grilling. Our sales force and distributors are constantly out in the field cooking at dealer grilling events (sometimes every weekend) to get customers excited about our products and let them taste for themselves how delicious food can be when it's cooked on a wood fir grill. Many of our dealers follow us on social media—Facebook, Instagram, Twitter—and they share our posts on recipes and products with their customers, and we do the same. If a dealer is holding an event that is highlighting our grills, we are more than happy to share the event on our social media to get the word out. It's also rewarding to see our dealers and their customers sharing recipes they've created (on their own) specifically for wood fire cooking.
What are your expectations for sales, given that the economy is stronger and consumers are spending again?
Wagy: We are growing this year over last year. In fact, every month of 2019, we've beaten the previous year's numbers, and we look forward to seeing that trend continue. In addition to the strong economy, I think increasing awareness and demand for wood fire grilling with consumers will help to solidify that growth. Even if the economy were to flatten out, I am confident that the category is moving on a steady upward climb. People that I talk to, both dealers and consumers, absolutely love their Memphis grills.
What has the company set its sights on for 2020 and beyond?
Wagy: We have plans to maintain our strong commitment to R&D and will continue to reach out to new customers and new markets with product expansions like we did with our Beale Street grill. More people are starting to create outdoor kitchens so we've enjoyed success with our built-in grills. Last year, we introduced a full line of doors and drawers made of durable 304 stainless steel (with soft closures) that will complement our built-in products. We will also continue to invest in accessories that make the entire grilling experience more enjoyable.