In our constant quest to bring you interesting recipes, we contacted Jaden Hair, cookbook author and the brains behind the great website www.steamykitchen.com to see if she'd be interested in cooking up an Asian inspired dish on her Memphis Grill. Her amazingly delicious recipe and video follows below: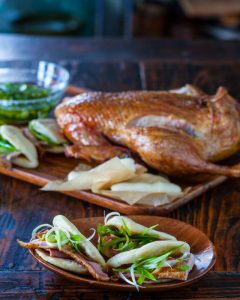 We've had our Memphis Grill for over 6 months now, and it's one of our most used kitchen appliances, other than the stovetop. I'm a professional recipe developer, television chef and cookbook author and I find that having the Memphis Grill not only frees up my kitchen, but infuses all of the food with a natural smoke flavor that I cannot ever get from my spice cabinet. 
I've developed a recipe for Smoked Duck with Chinese Steamed Buns for you to cook on your Memphis Grill. While the dish may sound elaborate and look fancy, the recipe is far from it – thanks to the fool-proofness of my Memphis Grill and a couple of my Mom's recipe shortcuts. 
Smoked Duck with Chinese Steamed Buns
1 whole duck
kosher salt and pepper
1 large bulb ginger, sliced
1 whole garlic bulb, cut in half
8 stalks green onion/scallion)
1/2 cup cooking oil (rice, vegetable, canola or peanut)
2-3 cans prepared sourdough biscuit dough (like Pillsbury brand)
1 tablespoon white vinegar
Prepared Asian Sweet Chili Sauce or Plum Sauce
1. To clean the duck, I like to give it a little salt rub to thoroughly clean the skin. Rub a handful of kosher salt all over the duck. Give that duck an exfoliating scrub! Rinse all salt away and pat dry. Season duck with salt and pepper, inside and outside. Cut away and discard any extra fat. Stuff the duck with the ginger and garlic. I like to sew the cavity shut, but it's not necessary.
Set your Memphis Grill at 225F for smoking with wood pellets. Place duck, breast side up directly on the grill grates and insert thermometer into the thickest part of the duck thigh. Smoke for 2-4 hours. Increase heat to 350F and continue to roast duck until the internal thermometer reaches 165F.
2. While the duck is cooking, let's prepare the scallions and bun.
SCALLION OIL: Mince 4 stalks of green onion. Place in a large, heat-proof bowl (like Pyrex or Corningware). Set aside.
CURLY-CRUNCHY SCALLION: With the remaining 4 stalks of green onion, slice as thin as you can at a very steep angle. Place in a bowl of ice water.
BUN: Flour clean surface to work on. Roll each biscuit into a oval shape. Fold over in half and place on a square of parchment paper. Cover with plastic wrap and set on counter until ready to cook.
3. Once the duck is cooked, remove from grill or oven and let rest while we steam the bun and make the Scallion oil.
BUN: In a large wok, bamboo steamer or large saute pan, add 2 cups of water with 1 tablespoon white vinegar. When boiling, steam the buns for 8 minutes on medium heat.
SCALLION OIL: While the buns are steaming, in a small pot or frying pan, heat up the 1/2 cup of cooking oil until the oil begins to smoke. Carefully pour the super-hot oil over the minced scallions and salt, mix well.
4. Carve the duck at the table, slice the duck breast into very thin slices to eat in between the steamed buns! Add a little Scallion Oil, Curly-Crunchy Scallion and Asian Sweet Chili Sauce.