Grilled Sausage
This recipe for grilled sausage is perfect for an evening when you have a short time to cook dinner, but still want to make something delicious for your family. Begin by firing up the Memphis to 650.
Once the grill has reached temperature, switch to the Open Flame Cooking Mode by selecting the Open Flame 1(OF-1) option. Carefully remove the lower racks and take out the EZ-Access Hatch. Replace the hatch with the Direct Flame Insert. Place the grates back on the grill in the lower position and you are ready to grill your sausages! Use long handled tongs to move the sausages around on the grill, rotating them, until they are cooked evenly on all sides and the internal temperature reaches 165 F.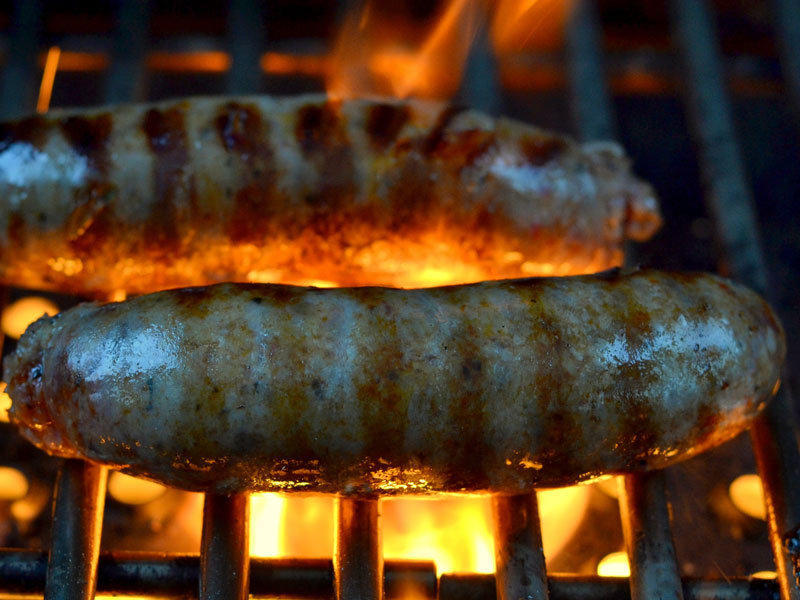 Smoked Sausage
This is a simple recipe for Saturday or Sunday when you are around the house doing chores. Let dinner basically cook itself. Smoke sausages (flavor of your choice – Italian, Bratwurst, honey garlic, etc.) by placing them on the lower rack of the Memphis and setting the temperature to 250 F. It will probably take about 2 to 2 ½  hours for the internal temperature of the sausages to reach 165 F. That's it!
Serve these smoked sausages in a bun with your favorite condiments and a salad on the side. We like to slowly caramelize onions and then heap them in the bun with the sausage along with a smear of grainy mustard. You can also slice the sausage into chunks and use them in a hearty soup with beans and cabbage. However you serve them, these smoked sausages can make a tasty meal with very little effort!