It's been pretty difficult to keep a lid on this fun announcement, but we are absolutely thrilled to debut our new line of 2016 grills that feature a whole host of innovations, including a state-of-the-art Wi-Fi Controller and App.
Most other Wi-Fi or Bluetooth grill controllers work locally (meaning you have to remain in range). This new Memphis technology works through the cloud, ensuring you can monitor/control the grill from home, work, the store, or their car (the passenger seat, of course). This is a game changer when it comes to cooking large cuts of meats like ribs, briskets, and pork shoulders that can take up to 12 hours (and a lot of babysitting) to cook.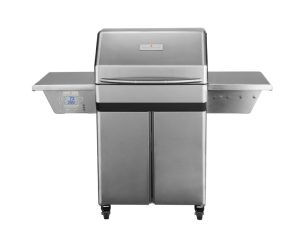 And gone are the days when you'd have to look up or memorize the temps a certain cut of meat needs to be cooked and finished at. We've made the process extremely simple by incorporating pre-loaded recipes directly into the intelligence of the Wi-Fi Controller. You would simply turn on their grill, insert a meat probe into the meat, and then select the type of protein you'd like to cook via the App. The Wi-Fi Controller takes care of the rest and automatically cooks the food to the perfect temp and even alerts you when it's finished.
Our new line of grills will continue to offer what made the prior models so successful – namely the ability to smoke, sear, and bake on one grill with amazing wood-fired flavor and precise temperature control. In addition, the new grills feature a backlit LCD screen, three meat probe inputs, updated branding, and enhanced storage in both the left and right shelves on the Pro and Elite models. All 2016 models will also come with a free genie tool and direct flame insert.
The new grills just began to ship and should be available at most retailers in May/June. We recommended contacting your favorite Memphis dealer or kickstarting the process with our new "Start Order" feature. You can find it on any grill page by clicking on "Start Order" and we'll happily and personally introduce you to an authorized dealer in your area.
*Please note that all earlier Memphis models (2015 and earlier) are NOT upgradeable to the new Intelligent Wi-Fi Controller or enhanced storage shelves. All models (both old and new) provide amazing taste and cooking power equally.