It's summertime and more homeowners are looking for ways to take indoor living into the great outdoors. Even though seven out of ten adults within the U.S. already own a grill or smoker, some homeowners are taking it to the next level by building a luxurious outdoor kitchen around it.
Luxury Outdoor Kitchens Are Growing in Popularity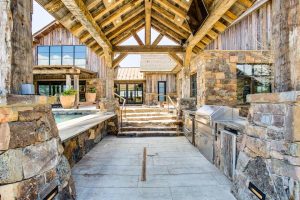 According to the most recent Home Design Trends Survey provided by the American Institute of Architects, luxury outdoor cooking spaces are topping the list of most wanted kitchen features for the second year in a row.
Why do homeowners crave a gourmet outdoor kitchen space? An upscale outdoor kitchen provides all the comforts of indoor kitchens with the added bonus of grilling your favorite dishes outside in the fresh air year-round. Plus, when it comes time to sell your home, you may see a 100 to 200% return on your outdoor kitchen investment.
Homeowners Prefer High End, Spacious Outdoor Kitchens
Of course, simply having space to barbeque isn't enough. Homeowners are opting for luxury outdoor cooking and entertaining spaces over simple patios or decks with built-in outdoor pellet grills and fire pits. The National Kitchen-Bath Association recently published new research that shows most outdoor kitchens are between 100 and 400 square feet, and include a sitting area and complete meal preparation space.
Homeowners are also including multiple cooking surfaces and grills in their space. While only 3% of grill owners own a pellet grill, their popularity is growing fast. In addition to multiple cooking surfaces, some of these kitchens include custom-built shelters, sitting areas, landscaping, and more to add to the look, feel, and convenience of the space.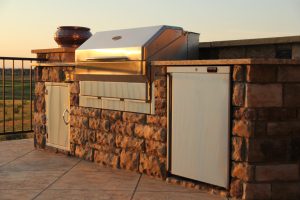 How Much Are Homeowners Spending on Luxury Outdoor Kitchens?
According to the NKBA's research, the typical spend for an outdoor kitchen is about $13,000. Yet, 22% of homeowners are choosing to build very high-end kitchens, spending upwards of $30,000 and beyond. Around 14% of homeowners spend between $20,000 and $30,000 to complete their project.
Memphis Wood Fire Grills has the Perfect Built-in Pellet Grill for Your Outdoor Cooking Oasis
Are you considering building your own luxury outdoor kitchen? If so, now's the time to find a perfect built-in wood fire grill, one that can grill, smoke, bake and more to give you the most bang for your buck. To learn more about Memphis Grills' versatile pellet grills, visit a Memphis Wood Fire Grills dealer or contact us today.