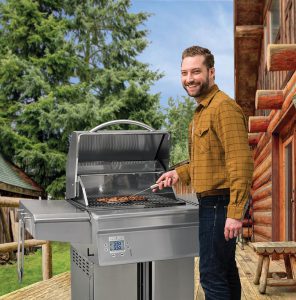 When it comes to cooking great food at home, the backyard barbecue enthusiast has many tools at their disposal. From drum smokers and wood pellet grills to kamado "egg" style cookers and beyond, there's no cooking challenge too big or small for weekend warriors and aspiring pit masters. Want to re-create authentic, low n' slow style southern barbecue? Or perhaps sear high-quality steaks that rival your favorite chophouse? It's all possible thanks to innovative manufacturers like Memphis Grills, whose latest release, the Beale Street grill, makes the home smoking and grilling experience even better.
Memphis Grills, a division of Dalsin Industries, started about 10 years ago, initially selling traditional wood pellet stoves to heat the home but soon realized their unique ability of working with sheet metal and stainless steel could be applied to creating pellet grills.
"We are differentiated in the industry by having a small team of engineers that develop unique components and solutions for our customers," said Sharla Wagy, General Manager for Memphis Grills. "It's made all the difference in allowing us the flexibility to build the best pellet grills on the market."
This flexibility means Memphis is able to offer both cart and built-in models with a majority of sales coming from carts. Wagy said Memphis sees tremendous growth in outdoor kitchens which is why they offer doors and drawers to accompany carts so people can have an entire outdoor kitchen of matching 304 stainless steel if they desire.
"It is the outdoor grilling enthusiast we cater to but it's also people that want a beautiful outdoor kitchen just like they want a beautiful indoor kitchen to entertain friends and family," said Wagy.
And while Memphis customers cross many different income and socio-economic levels, you won't find Memphis Grills at big box stores like Lowe's and Home Depot but rather specialty retail stores that span a wide variety of offerings. In some markets its BBQ stores, in others it might be hearth and patio stores.
"It spans a wide variety, as independently-owned retailers design their own store for their own market," said Wagy. "In our market of Minneapolis for example, we have a Kitchen Window store as one of our primary dealers. But then in the Phoenix market it's the more traditional barbecue stores like BBQ Island that have become a very good retail partner for us."
A stroll down Beale Street: What's the difference?
The Memphis Beale Street edition is a smaller, nimbler, less expensive version of the Memphis Pro and Elite models, without sacrificing quality. Dual wall insulation on the Beale Street keeps more smoke and heat intact, and while not as robust as the double wall insulation of the Memphis Pro or Elite models, additional gasketing ensures it is sealing tighter than other grills at the same price point.
The Beale Street also generates temperatures of 550 in indirect flame mode (pro and Elite models hit 650 and 700 degrees respectively). One striking similarity – the Beale Street is powered by the same industry-leading controller as the Pro and Elite models.
The other big Beale Street difference is its price.
"There were markets we weren't able to reach because of the price points of our core products," said Wagy. "We thought now is the time to introduce something more affordable which might inspire consumers to switch up to one of our other grills in the future."
But at the end of the day, all of the innovation in the world is worth nothing in the pellet grill industry if it doesn't produce the most important quality of all: great taste.
"The pellet category is growing so fast and I truly believe that once people cook with wood, they'll never go back to gas," said Wagy. "The rich flavor and  juiciness of the meats – everything turns out so much better."