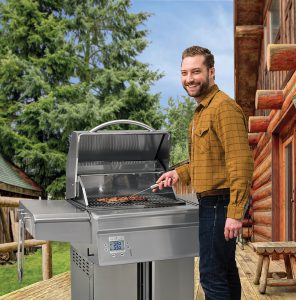 Memphis Grills is known for their premium quality wood pellet grills which they design, engineer and test in the USA.
The Beale Street is their "entry level" grill and is priced to be more competitive with premium brands like Yoder.
After cooking on the Beale Street for the last few months, I can confidently say that nothing about this grill feels entry level.
Let's get the basics out of the way. The Beale Street is a 26-inch freestanding pellet grill made from 430 stainless steel for outstanding heat retention. You get 558 square inches of cooking space, which can be expanded up to 817 square inches with an optional grate.
With a lot of pellet grills, it feels like you're stuck choosing either the latest technology or a well-built grill. The Beale Street manages to achieve both.
The WiFi Intelligent Temperature Control system lets you manage the temperature of your grill from your phone or tablet. And, while many pellet grills struggle to sear properly, the optional add-on Direct Flame Insert lets you sear steak or burgers over a direct flame. What I like:
Simplicity: This is the easiest grill to get to grilling/smoking that I have tested. Turn it on. Set the temp you want. Walk away. Just plain simple.
Build Quality: Dual wall construction. Entirely 430 stainless steel. Oh, the build quality of this thing. It is truly impressive. This grill will last for many years and look good doing it.
Thick Stainless-Steel Grates: I love these thick stainless-steel grates. These are made for the long haul. They transmit a good sear to food, and they are easy to clean.
Pellet Burning Efficiency: This may seem silly or uninteresting to others, but out of all the grills/smokers I have tested, this has been the most efficient one to date. The PID controller that this model uses really shines when it comes to controlling the auger and fan systems to get the most out of every pellet.
Memphis Grill App and WIFI connection: Talk about control at the push of a button. You can control basically any setting on your grill from the Memphis Grills App.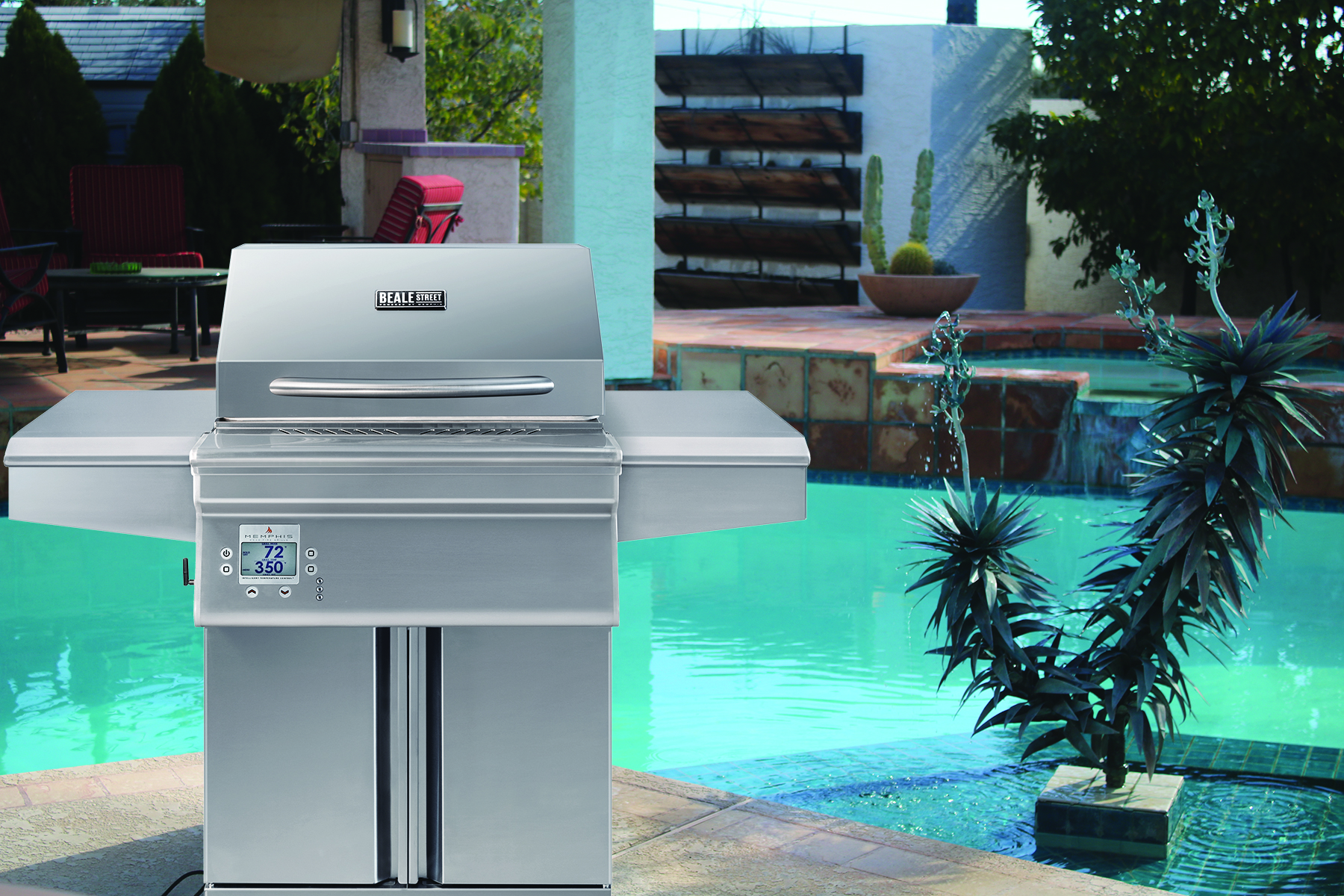 This grill is definitely on the high end of the cost spectrum for a reason. It is extremely well manufactured with materials of higher quality than most grills on the market.
It also comes with a generous amount of powerful and high-tech features like high heat direct flame searing and "adjust from your phone" Wi-Fi connectivity.
Ease of assembly
The grill arrived in a large cardboard box with packaging for days! But that is a good thing. The grill parts were very well protected from outside the box dangers, but also from each other.
Assembly took 42 minutes with a few simple tools at a conservative pace. This grill was not difficult to assemble, and the instructions were easy to read. 
Using the Beale Street:
Using this grill is stupid easy. It's the easiest pellet grill I have ever tested.
Fill the hopper, plug the grill in, hit the "on" button, scroll to the temperature that you want and walk away. That's it!
Temperature accuracy of grill and probes:
The grill probe is located in the middle of the grill at the very back. It measures what you see on the display for grill temp and is calibrated to measure its location and then translate what the temp of the grill would be in the middle of the grill. I ran some tests at different temperature settings to measure the consistency.
Temperature Consistency:
The grill has few swings in temps from minute to minute. Controlling a live fire to this degree is impressive, especially in an outside environment with an unknown wind variable.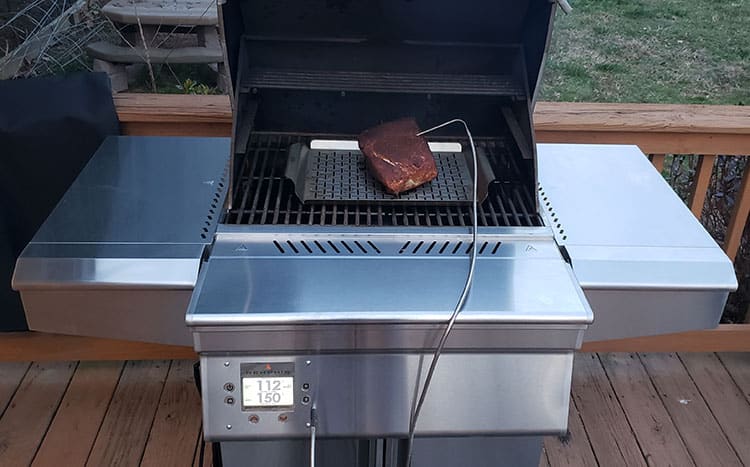 Pellet consumption and cleanout:
Thanks to the excellent construction and slightly smaller size, the Beale Street is incredibly efficient when it comes to pellet consumption.
The PID controller really shines when it comes to controlling the auger and fan systems to get the most out of every pellet. For those who like to completely clean out all the pellets after each cook or changeover from one pellet flavor to another, there is no specifically designed fast cleanout feature on this grill. However, it is still easy enough to accomplish. Simply remove the pellet hopper guard via the 2 Phillips head screws that hold it on. Then you can empty the hopper using your hands. This doesn't take long as the hopper only holds up to 12 lbs of pellets.
Grill technology
This grill connects to your Wi-Fi network and can be completely controlled from the Memphis App via your phone or smart device.
What do I mean? I mean you can actually CHANGE the temperature setting of the grill, set a timer, adjust your meat probe desired temp, get alerts via text message, and even turn the grill off ALL from your phone or smart device.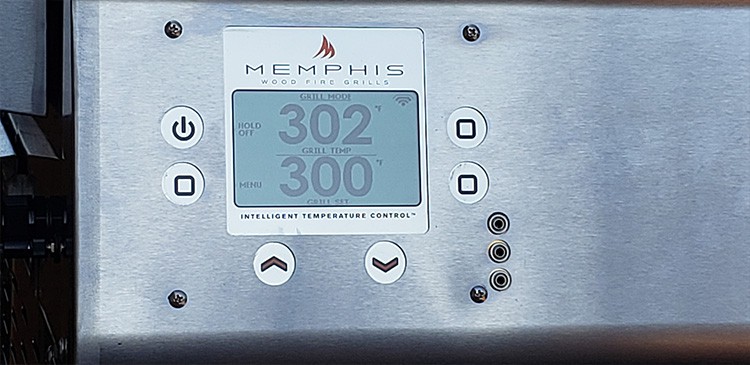 Build quality
I mean it when I say the build quality of this Memphis Beale Street grill is flawless.
I looked over every inch of every part of this grill looking for a blemish, a scratch, a mess up on a weld or a corner.Nothing. Nada. This grill is a shiny stainless-steel masterpiece.
Cleaning
I run the grill on high heat for about 30-45 min occasionally and then use the scraper for any left-on food particles. It scrapes right off. I also generally wipe down the outside of the grill with a damp cloth followed by a dry towel. There's really nothing difficult about cleaning this grill.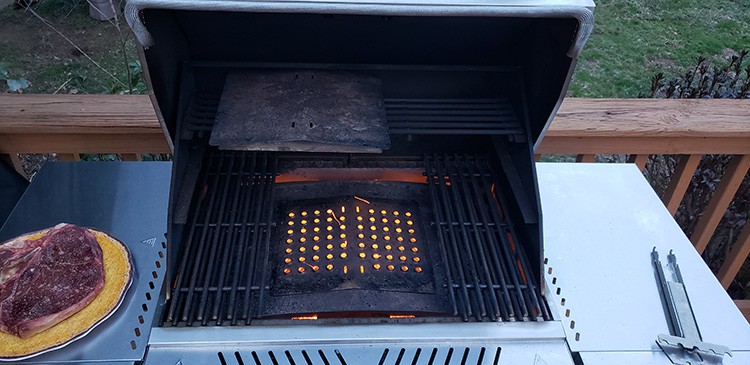 Customer service
Memphis Grills' customer service was very helpful in getting me up and grilling. The instructions that they sent were very clear and concise. If you decide to make one of these grills your own, you can do so knowing that this company's customer service is there to support you if you need them.
Accessories
Direct Flame Insert
I would consider this a must-have for steaks and burgers at a minimum. The high heat and searing power of the Beale Street grill is amplified when using the direct flame insert.
Heavy Duty Meat Probe
I would also consider this a must have.
This is the most heavy-duty meat probe that I have ever seen. Aside from that, it opens up additional features for this grill. With these meat probes, you can set the meat probe temp, and an audible alarm will go off when it reaches the desired temp. Once it's reached the desired temp, it will automatically reduce the grill's temp to a low level to keep your food warm. How awesome is that? It does a couple other things as well.  All around helpful tool to have.
Who should buy this grill?
The Beale Street is a high-end pellet grill suitable for most people.
If you want a versatile, high-quality grill, the Beale Street is a great option. You get the outstanding build quality Memphis Grills are known for, without paying upwards of $5,000. The grill performs at a high level, is simple to operate, has the convenience of Wi-Fi, great searing options for a pellet grill and will last a long time.