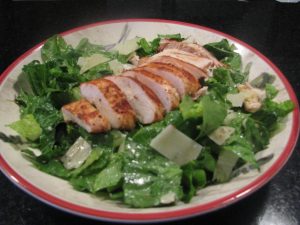 Pellet Flavor: Oak (all purpose)
Servings: 2-4
Caeser Dressing Ingredients:
¼ c. olive oil
1/8 c. white wine vinegar
1 egg white
3-4 Tbsp. fresh squeezed lemon juice
2 tsp. Dijon course sweet and spicy mustard
1/8 c. grated parmesan cheese
1-2 tsp. sugar
Dash of garlic salt or 2 cloves or crushed garlic
Salt and pepper to taste
 Other Ingredients:
Romaine lettuce
Croutons (if desired)
2 barbecued chicken breast
Chicken barbecue seasoning
Shaved parmesan cheese for garnish
Directions:
Preheat Memphis Wood Fire Grill to 400 degrees.
Cover chicken generously with barbecue seasoning.
Cook chicken at 400 degrees for eighteen minutes.
Remove chicken and let cool for 5-10 minutes.
While chicken is cooking, combine all ingredients in a bowl and wisk thoroughly.
Cut up romaine lettuce and place in chilled bowl.
Gently toss lettuce with desired amount of salad dressing.
Portion salad into bowls, add shaved parmesan for garnish (croutons optional)
Thinly slice chicken and place on top of salad.
Serve and enjoy!