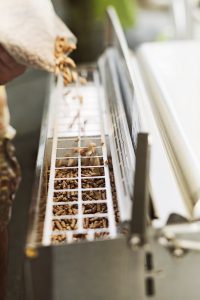 Outdoor cooking often calls for disposable plates, disposable cups and, depending on the menu, disposable silverware. One thing it doesn't require is a disposable grill.
More and more grill masters and grilling enthusiasts are retiring their old round-topped grills and upgrading to options that are more versatile, durable and attractive.
Grilling Options for the Grill Enthusiasts
The categories of different grills are based on the fuels they burn to create heat, and on the shape and materials used in their construction. Grills generally use wood pellets, charcoal or propane as fuel. They can be made of aluminum, steel, ceramics or other materials.
But when it comes to durable, high-end grilling, the only real options are stainless steel and ceramic. The two styles most popular among outdoor cooking experts are wood fire grills and kamado grills.
Grill Masters Want to Know: Who's the Best?
In truth, grilling preferences are as unique as the people using the grills. The best grill for you might not be right for the next person.
The best wood fire grills and kamado-style cookers can be used to sear, smoke, and grill meat. Memphis Wood Fire Grills can be used for convection baking, as well. They can make every course, from appetizer to dessert. (Just don't grill the salad.)
While wood pellet grills and kamado charcoal grills are both versatile, there are differences.
Pellet grills offer the latest in cooking technology, with set-it-and-forget-it ease when it comes to cooking. They can easily be made to reach and maintain optimum cooking conditions.
Kamado grills tend to require more attention and care to deliver equal quality results.
It is their ease of use that has led to a sharp increase in the popularity of Memphis Wood Fire Grills and other pellet-burning options.
                                                                                      When it comes to outdoor cooking trends, nothing is hotter than the wood fire grill.
Embrace the Possibilities
How do you define the perfect grilling experience? Did the food turn out perfectly? Were the flavors and textures just what you wanted and expected? Was the food easy to prepare? Does the thought of doing it all again tomorrow fill you with joy or dread?
At Memphis Grills, we think every cooking experience should be an enjoyable one. Our products are designed to deliver the results you want, year after year. To learn more about our grills, find a Memphis dealer nearest to you or contact us today.