At Memphis Wood Fire Grills, we're known for our innovation and rock-solid products. We're happy to announce that we're continuing to expand and improve our product lines:
HERE'S WHAT'S NEW:
NEW STAINLESS STEEL DRAWERS AND DOORS
Memphis Wood Fire Grills recently launched a new line of stainless steel drawers and doors that allow you to create almost any outdoor storage and cooking area that you can think of. Our drawers and doors can be individually fitted into your masonry and are designed to match our Pro and Elite Built-In Grills. View our entire selection to find the best fit for you.
NEW CONTROLLER WITH WI-FI, LARGE LCD SCREEN, AND 3 MEAT PROBE INPUTS

Our new integrated Wi-Fi controller and free Memphis Mobile App (iOS and Android) give you the freedom to monitor and adjust your grill and food temps from anywhere you desire. Most other Wi-Fi or Bluetooth grill controllers only work locally (meaning you have to remain in range). Our technology works through the "cloud" ensuring you can monitor/control your grill from home, work, the store, or your car (the passenger seat, of course). And you can even set it up to receive email or text alerts when your meat is cooked to perfection.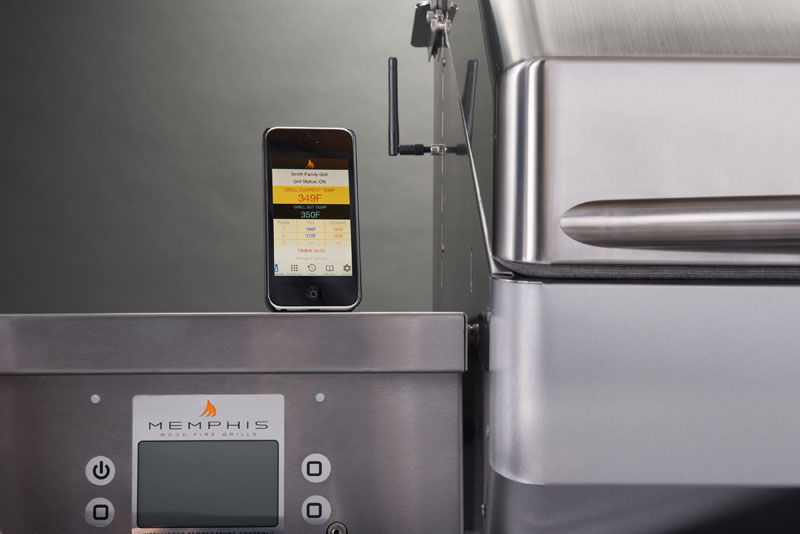 INCREASED STORAGE
Both right and left shelves on the Pro and Elite open for enhanced storage, giving you more space for grilling accessories, meat probes, recipe notes, and much more. The shelves are secured in place using stainless steel bolts, allowing for maximum strength and durability.
ACCESSORIES NOW INCLUDED
Every grill now comes with a free direct flame insert, genie tool, and bag of pellets. The Pro and Elite also come with a free meat probe, enabling you to hit the ground grilling! Try one of our recipes and experience firsthand the difference our grills can make.